'Turbo' Trailer #2: Ryan Reynolds Lives Life In The Fast Lane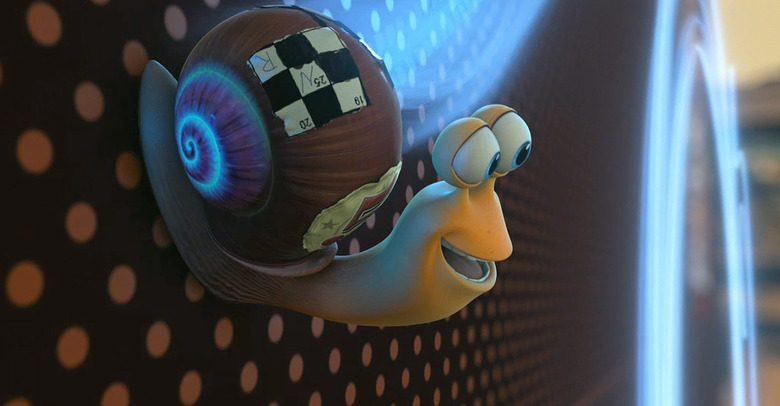 What does it take for a snail to become fast enough to compete in the Indy 500? According to this new trailer for DreamWorks Animation's Turbo, a terrible car accident and a nitrous oxide wash ought to do the trick.
Ryan Reynolds voices the lead, an ordinary garden snail with not-so-ordinary dreams. While the first trailer focused mostly on his burning desire to race — an apparent impossibility considering it takes him 17 minutes to travel one yard — the second offers a better look at how he might actually achieve that goal, and the friends who'll be there to help him. Watch the new trailer after the jump.
That's quite a team Turbo has backing him up. Paul Giamatti, Michael Pena, Luis Guzmán, Bill Hader, Richard Jenkins, Ken Jeong, Michelle Rodriguez, Maya Rudolph, Ben Schwartz, Kurtwood Smith, Snoop Dogg, and Samuel L. Jackson all lend their voices to the movie.
The idea of a snail in the Indy 500 is a novel one, but otherwise Turbo looks like lots of other movies we've seen before. That's not necessarily a bad thing — the underdog sports story is a classic for a reason — but this doesn't look like a particularly inspired spin on the formula. Nevertheless, the animation looks crisp and shiny, the characters seem likable enough, and I'm betting young Cars fans will find plenty to enjoy.
Turbo drops into theaters July 19.
From the makers of Madagascar and Kung Fu Panda, Turbo is a high-velocity 3D comedy about an underdog snail who kicks into overdrive when he miraculously attains the power of super-speed. But after making fast friends with a crew of streetwise, tricked-out es-car-goes, Turbo learns that no one succeeds on their own. So he puts his heart and shell on the line to help his pals achieve their dreams, before Turbo-charging his own impossible dream: winning the Indy 500.