'The Place Beyond The Pines' Review: Ryan Gosling And Bradley Cooper Highlight Generational Drama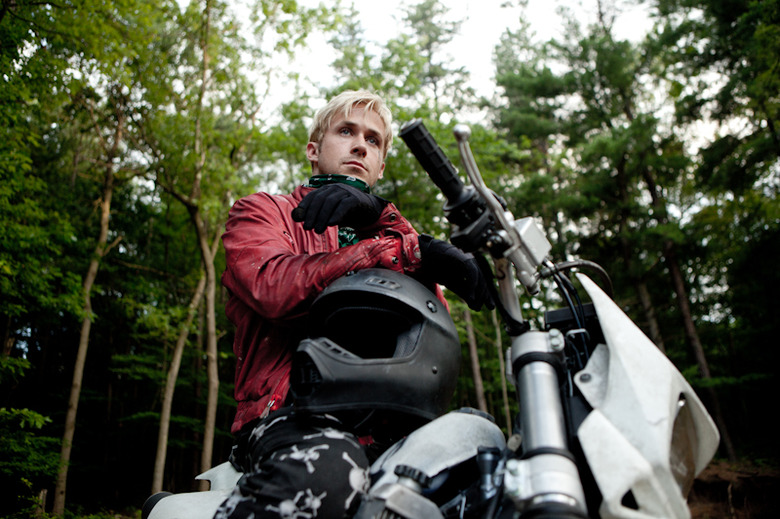 The Place Beyond the Pines is not the movie you think it is. That's a good thing. Derek Cianfrance has created an epic generational drama that uses police and crime movie tropes as background to tell a bigger story about the consequences of action.Ryan Gosling, Bradley Cooper, Eva Mendes and Dane DeHaan star in roles that each challenge our perceptions of the character types, and Cianfrance's script (co-written with Ben Coccio and Darius Marder) unfolds at a methodical pace. This allows the viewer to live in several very different worlds that possibly should never have connected. It's a strong new effort from the filmmaker who became famous for his 2010 effort Blue Valentine.
To explain much of the plot of The Place Beyond the Pines would be to take away from its interesting structure; the trailer already gives away much more than I'm comfortable doing. What is important is that Gosling plays Luke, a bad-ass motorcycle stuntman who makes his living working at a carnival. Cooper is Avery, a young police officer in a small town; he's just trying to live up to his father's expectations. Mendes is a local who once had a fling with Gosling's character, and DeHaan is a young boy who connects them all together.
The biggest problem with The Place Beyond the Pines is that, while the stories link together and inform each other in fascinating ways, the execution of each feels disjointed. You spend a lot of time with one character, then a lot of time with another, then move on to yet another. This gives the film more of an anthology feel, rather than a traditional narrative where we'd generally cross cut between intersecting stories. Here each story is presented chronologically, yet they're each isolated. Watching the movie you'll understand why the film is structured like this (in fact – it's kind of essential to the point) but that doesn't make it any less off putting.
If you can get past that, Cianfrance has created a solid human drama with very impressive performances from top to bottom. Gosling is his usual great self, but it's Cooper and the newcomer DeHaan who really rise above to give the film a human touch. They're flawed, fully realized characters that you feel simultaneous pity and sorrow for. Those dueling emotions are the heart of The Place Beyond the Pines, as the story questions how the tiniest decisions we make have ripples into the lives of those around us.
Though it's not the action infused crime drama you might think it is, The Place Beyond the Pines is a well-made and interesting film that's sure to start a lot of debate. About its structure, to be sure, but also about the moral dilemmas the characters are presented with, how they deal with them and what it says about us all.
/Film Rating: 7 out of 10
The Place Beyond the Pines opens March 29.