Sequel Bits: 'Fast & Furious 6', 'Transformers 4', 'Anchorman 2', 'Scary Movie 5', 'Monsters University', 'Hatchet III', 'G.I. Joe: Retaliation'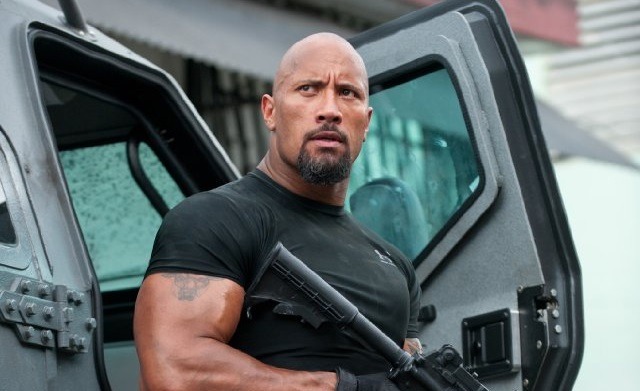 Dwayne Johnson's gone from franchise to franchise the past few years, but now he may finally be ready to lead an offshoot of his own. The actor reveals a Luke Hobbs spinoff could "possibly" arrive after Fast & Furious 6. Also after the jump:
Johnson also talks Bond and Expendables 3
The Transformers series will return to Chicago
Scary Movie 5 gets a slightly less crass poster
No, Meryl Streep will not be in Anchorman 2
See Bruce Willis' international G.I. Joe poster
Cobra Special Forces has a message for the Joes
Hatchet III teaser is all about Victor Crowley
Monsters University reacts to March Madness
Well, look, Skyfall's one of the greatest action movies of all time, to me. Love Daniel Craig. Would love to be a Bond baddie for sure. You know, my grandfather was in You Only Live Twice. He was a Bond baddie.
He's less sure he wants to join up with the Expendables. Or rather, he's not certain they could handle him.
Expendables 3, they're not ready for me. They're not ready for this ass-kicking.
In the same interview Johnson also commented on the Star Wars series; read about that here. [Hey U Guys]
Then again, if all goes well with the Fast & Furious series Johnson may not even have time to think about Bond or Star Wars or The Expendables anyway. The actor, who joined the cast in 2011's Fast Five, revealed that a spinoff about his character Luke Hobbs could be coming after this summer's Fast & Furious 6.
Possibly — possibly after this one. Possibly. I'm not quite too sure. I know that that's the goal and we continue to build that character and let him take shape, for one. But yes, I can't wait.
As if all the "possiblys" didn't make it clear, this is in no way confirmed right now. Would you watch a Luke Hobbs movie? [Empire]
The Autobot-Decepticon war was pretty rough on Chicago in Transformers: Dark of the Moon, but the city is now ready to welcome back the giant space robots for for Transformers 4.
Reel Chicago reports that the Michael Bay-directed sequel is "expected" to shoot in the Windy City from July through October. Though it should be noted that nothing seems set in stone yet — "Neither the production schedule nor cast has been completed," the site warns. Transformers 4 is scheduled for July 25, 2014. [via HuffPo]
Dimension Films has released a new poster for Scary Movie 5 that... looks almost exactly like the old poster for Scary Movie 5, only slightly more SFW. If you've got a few minutes to waste, feel free to play spot-the-difference, Highlights style, with the images below.
Scary Movie 5 opens April 12. [Cinema Blend]Adam McKay's "murderer's row of day players" for Anchorman: The Legend Continues is shaping up very well, with Greg Kinnear and Josh Lawson as the latest additions. But don't look for Meryl Streep to be among them.Steve Carell previously hinted that his Hope Springs co-star Streep would "love" to have a cameo in the film, but now he clarifies that it was just a tossed-off comment and not an actual bit of casting news. "Yes she was a fan," he said. "But there's no validity to [the rumor]."
Carell explained that the conversation with Streep didn't amount to much. "I jokingly said, 'You should be in it.' Meryl said, 'Could you imagine?' And it was just that," he explained. Ah well. Guess we'll have to settle for Harrison Ford, Meagan Good, Dylan Baker, Kristen Wiig, James Marsden, and John C. Reilly.
Even without Streep, though, Carell sounds totally pumped about the comedy sequel. "It's like no time has passed," he enthused. "It's going to be really, really fun." Anchorman: The Legend Continues premieres December 20. [THR, E! via The Playlist]
With the opening of G.I. Joe: Retaliation just days away, Cobra Special Forces isn't being shy about its evil plans. Check out this sinister message from them below.
Luckily there are plenty of badasses on the side of good, including Bruce Willis' Joe Colton (a.k.a. the original Joe). Here he is looking locked and loaded in a new international poster.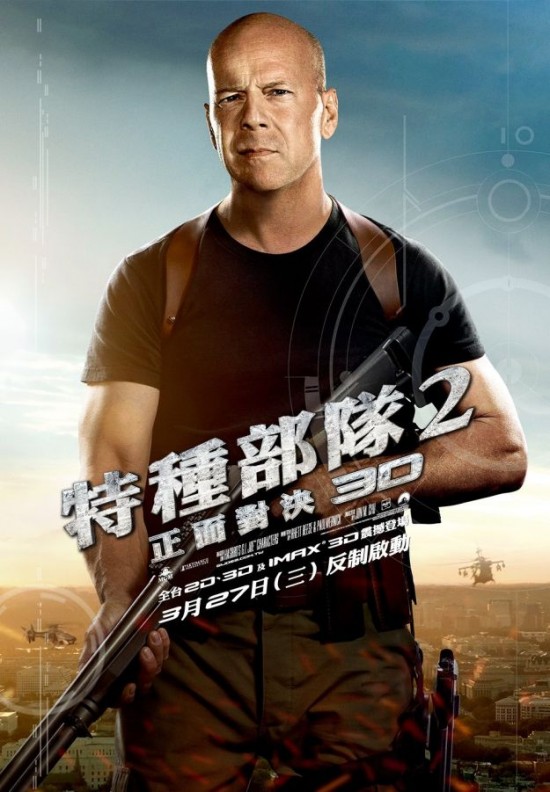 G.I. Joe: Retaliation opens March 28. [Coming Soon, SuperHeroHype]
Dark Sky Films has unveiled the first teaser trailer for Hatchet III. Just in case there was any confusion as to whom this movie is about, they mention Victor Crowley by name like three times in the first thirty seconds.
Hatchet II cameraman BJ McDonnell takes over at the helm for Adam Green this time around. Hatchet III opens in New York and LA on June 14. [Facebook via Twitch]
Every proper college needs a student-run publication, and now Monsters University has its own. A "self-diagnosed coffee addict" claiming to be a sophomore at the school has just started a site called The Grumblr to keep track of all the goings-on around campus. Check out a video of the basketball team reacting to Selection Sunday below:
There are also artsy Instagram-style photos, animated GIFs, memes about lame teachers, and complaints about homework. Click through a few of the pics below, or see the site in full here.
Monsters University drops June 21. [via Stitch Kingdom]