'Jane Got A Gun' Loses Director On Day One Of Shooting; Lynne Ramsay Quits By Not Showing Up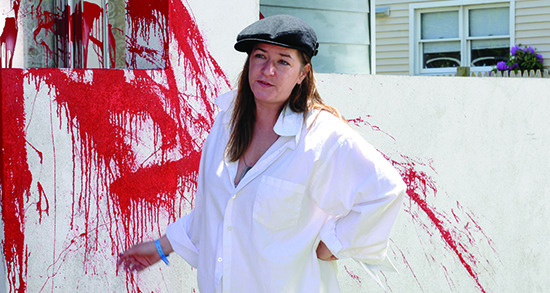 Lynne Ramsay's third film, We Need to Talk About Kevin, is nearly a masterpiece of parental paranoia and despair. Based on that, and her previous work, and a great cast, we had big hopes for her new movie, Jane Got a Gun. The indie western stars Natalie Portman as a woman who takes up arms to defend her homestead against the bandits she assumes are en route to finish off her and her wounded husband.
Last week we heard that Michael Fassbender, who had been set to play one of the lead roles, had dropped out, with Joel Edgerton moving over into his role, and Jude Law set to step in to the role vacated by Edgerton. That just seemed like one of those scheduling hiccups that happens, especially on indies. Turns out there might be much bigger problems with the movie.
Jane Got a Gun was set to start shooting yesterday, but when everyone assembled on set, there was one person missing. Lynne Ramsay didn't show up to direct, and is now off the film. What happened? Right now we only have one point of view on the story.
As you might expect, producer Scott Steindorff (who is producing with Portman) is not happy. He's got a lawyer working on the situation, and Steindorff told Deadline,
I have millions of dollars invested, we're ready to shoot, we have a great script, crew and cast. I'm shocked and so disappointed someone would do this to 150 crew members who devoted so much time, energy, commitment and loyalty to a project, and then have the director not show up. It is insane somebody would do this to other people. I feel more for the crew and their families, but we are keeping the show going on, directors are flying in, and a replacement is imminent... My focus is on making this movie, but I will protect all my rights. This comes down to an irresponsible act by one person.
There has to be a lot more going on here, but we only have one side of the story. The narrative right now is being controlled by the one person who is speaking out (Steindorff) and that paints a very incomplete picture of events. The situation seems to be one where Ramsay is off the movie one way or the other, but I wouldn't be quick to jump to conclusions about what happened just yet.
Presumably we'll soon get a statement from Ramsay about what caused her to split from the production. I don't think I've ever heard of a movie being delayed because the director just didn't show up on day one. This can't be the first time, but it might be the first time it has happened with a director represented by such a significant body of work. (Ramsay may only have three features under her belt, but they're all powerhouses.)