Joss Whedon's Reaction To 'Iron Man 3' Ending, New IMAX Poster Revealed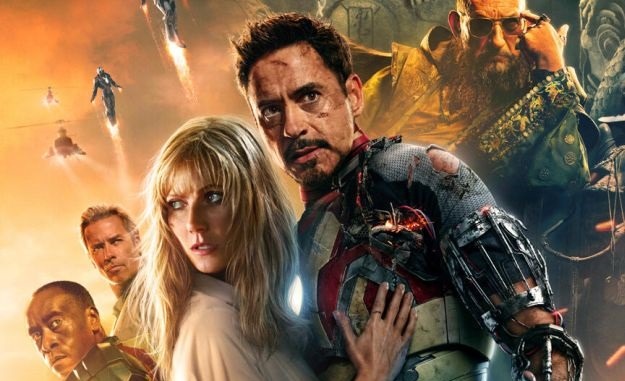 It's been what, two weeks since the last Iron Man 3 poster was revealed? That kind of laziness simply won't do. Fortunately, IMAX is here to save the day with a new poster featuring the whole gang. Tony (Robert Downey Jr.) and Pepper (Gwyneth Paltrow) clutch each other while supporting characters look on somberly, and little Iron Men fly around in the background.
All of it portends some serious drama, but most of us won't know what exactly happens in the film for another several weeks. As part of the Marvel family, though, Joss Whedon got a little sneak peek. And according to studio head Kevin Feige, he had quite a reaction to the Iron Man 3 ending. Read about his comments and check out the new poster after the jump.
....We have what I think is the biggest, you know, most action packed finale we've had. I showed the film to Joss Whedon who is our writer-director of Avengers, is currently working on Avengers 2, and he saw the finale of this and he goes, now what am I supposed to do now?  What am I going to do in Avengers 2?
Avengers itself had a pretty kick-ass ending, so if Whedon's impressed I'm prepared to be dazzled as well. I'm happy to see the Marvel team keep trying to top themselves — that just means there's more great stuff for us fans ahead.
As for the IMAX poster, it's literally just a composite of all the other posters released so far. Take this one featuring Tony and Pepper front and center, then copy and paste in the character posters for The Mandarin, Aldrich Killian, and James Rhodes. And it borrows from more than a few pervasive poster design trends, what with the blue/orange color scheme, the crowded character layout, the cloudy background and the floating debris / sparks.
It's not exactly the most original bit of marketing, then. But it's reminding me (once again) about the movie without detracting from my interest in it, so mission accomplished, I guess.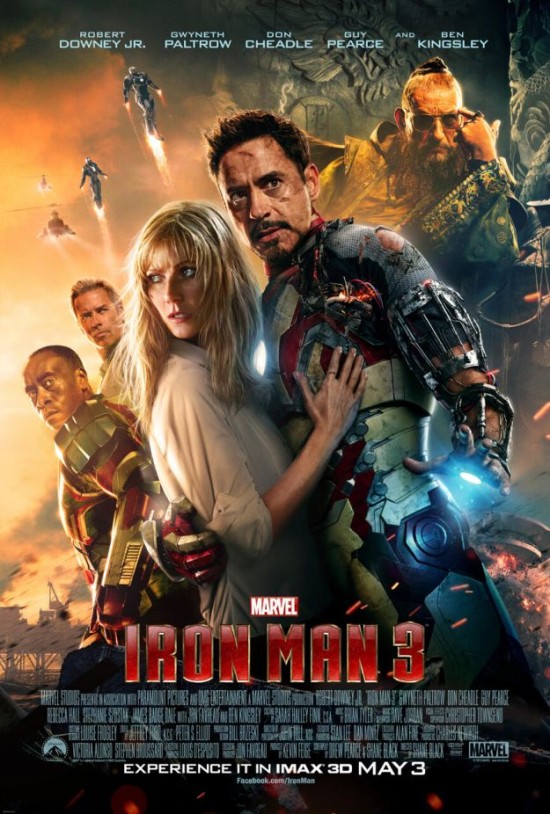 Directed by Shane Black, Iron Man 3 opens May 3.
Marvel's "Iron Man 3" pits brash-but-brilliant industrialist Tony Stark/Iron Man against an enemy whose reach knows no bounds. When Stark finds his personal world destroyed at his enemy's hands, he embarks on a harrowing quest to find those responsible. This journey, at every turn, will test his mettle. With his back against the wall, Stark is left to survive by his own devices, relying on his ingenuity and instincts to protect those closest to him. As he fights his way back, Stark discovers the answer to the question that has secretly haunted him: does the man make the suit or does the suit make the man?