First Look: Eddie Murphy And Brandon T. Jackson As Father And Son In Shawn Ryan's 'Beverly Hills Cop' Pilot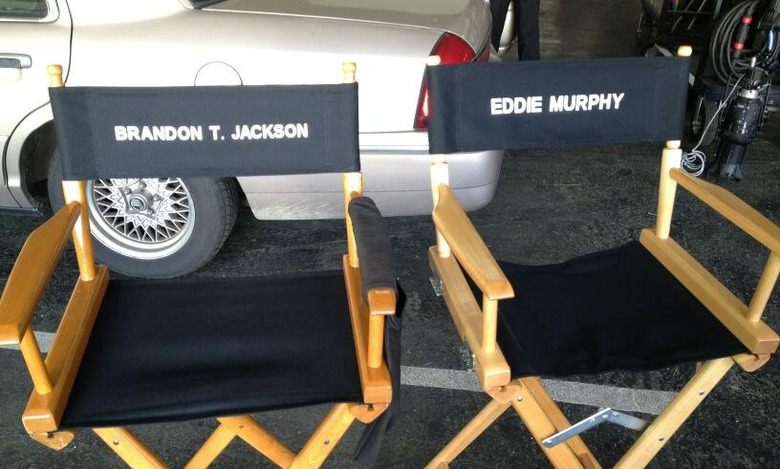 Eddie Murphy tried for years to get a fourth Beverly Hills Cop movie off the ground, but it wasn't until he reworked it for the small screen that the project really started to gain traction. Shawn Ryan came aboard to produce, CBS greenlit the pilot, Brandon T. Jackson was cast as Axel Foley's son Aaron, Barry Sonnenfeld was hired to direct, and now cameras are actually rolling on the So Cal set.
Set in the present day, the new series sees Aaron trying to come out from under the shadow of his famous father as a blue-collar cop working in ritzy Beverly Hills. Murphy won't be a regular on the show, but he reprises his role of Axel for the pilot and may return in future episodes if the show moves forward. Check out the first photos of Murphy and Jackson as father and son after the jump.
Not much of a father-son resemblance here, but it's amusing to see Murphy passing the torch.
Jackson also pops up in this new photo taken by David Denman (a.k.a. Roy from The Office), who'll play likable but awkward detective Brad. Sheila Vand stars as another detective in the force.
Just wrapped Day 1 of #BeverlyHillsCop with @brandontjackson @SheilaYVand and @ShawnRyanTV gonna be good http://t.co/ydIHQfaLKZ

— David Denman (@David_Denman) March 15, 2013
Murphy isn't the only original film star making his return for the pilot. His former on-screen partner Judge Reinhold is also set for a cameo appearance as Billy Rosewood in the first episode. Series regulars include Christine Lahti, as a police captain, and Kevin Pollak, as the in-house BHPD lawyer.The show was described last year as a buddy-cop procedural with "strong comedic elements" and a fish-out-water setup.
If CBS picks up the pilot, look for the series to debut this fall or so.