Ben Affleck And 'Argo' Screenwriter Chris Terrio Could Reunite On 'Bunker Hill'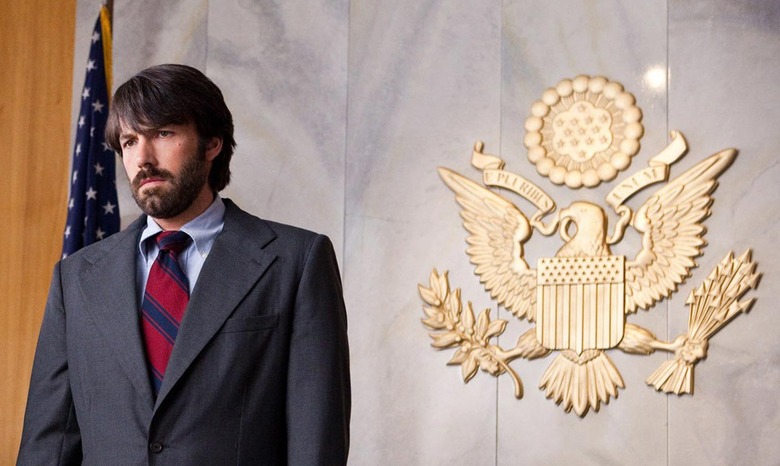 We may receive a commission on purchases made from links.
You know how it goes: a picture becomes a financial success, wins a few awards, takes home the top Oscar, and pisses off Iran. All because of that, someone is guaranteed to want to get the team back together for another round.
Ben Affleck, star and director of Argo, and Argo screenwriter Chris Terrio (also an Oscar-winner for Argo) are looking like the duo to adapt the book Bunker Hill: A City, A Siege, A Revolution, which tells the story of the battle that helped kickstart the American Revolution against the British. It probably won't be Affleck's next movie — that's looking like it will be an adaptation of Dennis Lehane's novel Live By Night — but it could be up after that.Deadline says that Warner Bros. has picked up the screen rights to the boo, which hits shelves next month. The rights were acquired for Pearl Street Films to develop as a directorial project for Affleck. Chris Terrio will reportedly script.
Affleck has worked in the basic period piece mode before (on Argo, obviously) but making a film set int he 1770s would be a slightly different thing from making one set in the 1970s. Not different enough that it would make any big difference so long as the script is any good, however.
As mentioned, the book will be published in April. Here's a long description of it from Amazon's pre-order page:
Boston in 1775 is an island city occupied by British troops after a series of incendiary incidents by patriots who range from sober citizens to thuggish vigilantes. After the Boston Tea Party, British and American soldiers and Massachusetts residents  have warily maneuvered around each other until April 19, when violence finally erupts at Lexington and Concord.  In June, however, with the city cut off from supplies by a British blockade and Patriot militia poised in siege, skirmishes give way to outright war in the Battle of Bunker Hill. It would be the bloodiest battle of the Revolution to come, and the point of no return for the rebellious colonists.
Philbrick brings a fresh perspective to every aspect of the story. He finds new characters, and new facets to familiar ones. The real work of choreographing rebellion falls to a thirty-three year old physician named Joseph Warren who emerges as the on-the-ground leader of the Patriot cause and is fated to die at Bunker Hill. Others in the cast include Paul Revere, Warren's fiancé the poet Mercy Scollay, a newly recruited George Washington, the reluctant British combatant General Thomas Gage and his more bellicose successor William Howe, who leads the three charges at Bunker Hill and presides over the claustrophobic cauldron of a city under siege as both sides play a nervy game of brinkmanship for control.
With passion and insight, Philbrick reconstructs the revolutionary landscape—geographic and ideological—in a mesmerizing narrative of the robust, messy, blisteringly real origins of America.