Paramount Working On A 'Hansel And Gretel: Witch Hunters' Sequel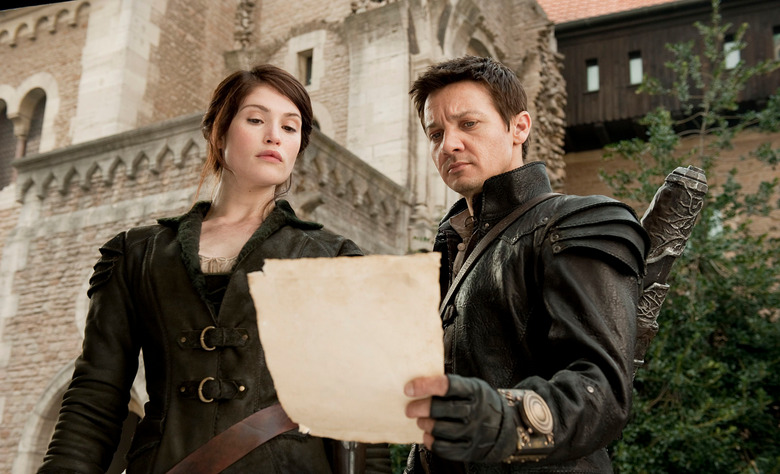 Hollywood is bound to run out of good fairy tales to adapt sooner or later, but of course even that doesn't have to spell the end of the fairy tale reimagining trend. As long as sequels are still a thing, each one of these adaptations can be stretched out into a franchise. And that's precisely what's happening with one that opened earlier this year.
Despite a talented cast and an outrageous premise, Hansel and Gretel: Witch Hunters failed to make much of an impression in the U.S. when it hit theaters two months ago. But it's had much better success overseas, and as of today has earned a worldwide total of $205 million, or four times its $50 million budget. So you can probably guess where this is headed next. Paramount has just announced that it is pushing ahead with a Hansel and Gretel: Witch Hunters sequel. Hit the jump for more info.
Also unclear is whether Jeremy Renner and Gemma Arterton will reprise their title roles. It's likely they had sequel options written into their contracts for the first film, but Renner in particular is so busy now that I wouldn't be surprised if he tried to weasel his way out. In that case, the studio could always recast the parts, or shift the focus to some of the other characters (Thomas Mann's hapless sidekick, for example).
Whatever happens with the sequel, it's clear the first film has worked out pretty well for Paramount. The studio's decision to push it from a promising March 2012 release to the January 2013 dumping ground hinted at a lack of confidence in the film, but that extra time allowed Renner's profile to skyrocket after The Bourne Legacy and The Avengers. I can't say for certain if that's why the film did so well abroad, but I'm sure it didn't hurt.