Thomas Newman Scoring Pixar's 'The Good Dinosaur'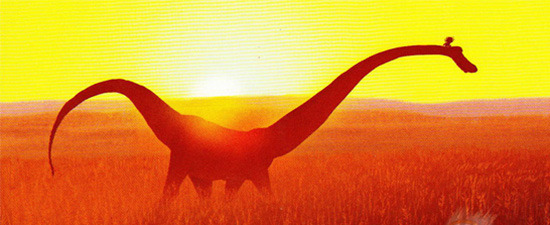 Thomas Newman has worked with Pixar a couple times in the past on little films like Wall-E and Finding Nemo, and now he's going to work with the animation giants once more. The film is The Good Dinosaur, which pixar has been developing for the past few years. The composer recently stated that The Good Dinosaur will be his next film, and we've got a few details below.
Newman announced the project at a Le Moyne and Syracuse University event (via a Film Music Reporter and PixarPlanet), and said,
[Writing for] animation is a lot different. In live-action, you can settle on a mood or tone that lasts for a long time. In animation, the tone is shifting every two or three seconds. There's a lot more writing, a lot more notes. It can be scary.
The Good Dinosaur is directed by Bob Peterson, making his solo feature directorial debut.
Peterson's Pixar career began when he was an additional animator and layout artist on Toy Story; he worked on the story team for A Bug's Life and Toy Story 2. He was a story supervisor on Monsters Inc, and a writer on Finding Nemo and Up. Peterson voiced Dug the dog in Up, Mr. Ray in Finding Nemo, Roz in Monsters Inc and Geri in the short film Geri's Game. He made his o-directorial debut on Up alongside Pete Doctor. The Good Dinosaur is co-directed by longtime Pixar storyboard artist and animator Peter Sohn, who made the Pixar short film Partly Cloudy.
The Good Dinosaur is scheduled for release on May 30, 2014.
What if the cataclysmic asteroid that forever changed life on Earth actually missed the planet completely and giant dinosaurs never became extinct? This hilarious, heartfelt and original tale is directed by Bob Peterson (co-director/writer, Up; writer, Finding Nemo) and produced by John Walker (The Incredibles, The Iron Giant).