'Goon' Creator Eric Powell Updates On David Fincher-Produced Film Adaptation, "We're Still Moving Forward"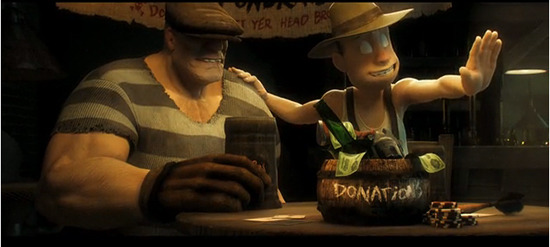 Before Veronica Mars could try to kickstart anything, David Fincher and Goon comic book creator, writer/artist Eric Powell, used the service to raise money to take a step or two forward with a proposed CG animated version of Powell's comic. Goon has struggled forward as a project for a few years, with early test footage appearing at Comic Con years back, and Clancy Brown and Paul Giamatti long attached to voice major characters.
They're still attached, said Powell when asked recently about the status of the project. "Everyone who was originally attached is still attached," he said.
The Kickstarter campaign to raise money to produce a rough early version of the full feature was a success, and now Fincher, Powell, and Blur Studios are working to make the next stage of Goon's big-screen evolution a reality. Check out footage of Powell talking about the movie below. 
BadTaste.it took the chance to ask Powell about the Goon film when he appeared at Cartoomics 2013. It's not a huge update — basically, it boils down to "we're still working on it," but that's a lot better than "it isn't happening."