Studios Pushing Movie Releases Earlier And Earlier, From Midnight To 7 PM On Thursday Openings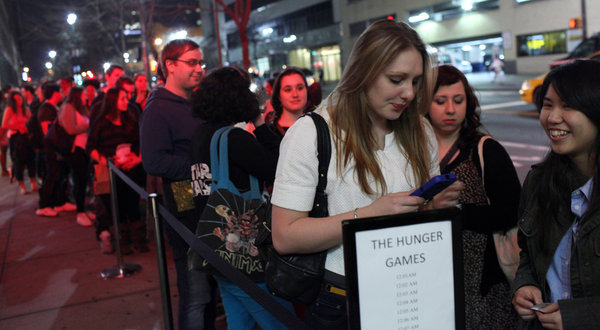 Midnight openings have become an important part of the moviegoing landscape in recent years, but of course not everyone can stay up until midnight, let alone stay up until midnight, sit through a two-hour movie, and drive home very late at night. So why not bump up the time just a few hours earlier to sell a few more tickets? That's the reasoning some studios are taking, pushing their releases to Thursdays at 10 or even 7 PM. Hit the jump to keep reading.
Theaters have been doing midnight screenings for a very long time, but the late-night shows have typically been reserved for films that attract a hardcore fanbase, such as the Star Wars prequel films or Marvel- and DC-based properties. In contrast, these 7 PM or 10 PM screenings are targeted at a much broader audience — the kind of people who may not want or be able to sit in a theater until 2 AM.
Paramount's head of distribution Don Harris told TheWrap that that was precisely the idea behind the decision to open G.I. Joe Wednesday evening. "As we looked at the numbers of kids that were going to be out of school, we thought, "why not let theaters open it for their prime shows and then play it at 10 and again at midnight if they wanted to?'"
There are other benefits to pushing these openings earlier. Hiring staffers to stick around until the wee hours of the morning can be costly, and in some markets it's even trickier as public transportation services have shut down by the time those movies get out. The earlier screenings also give movies more time to build up buzz, and can beef up opening weekend revenues.
On the other hand, though, there's the question of how far this trend can go. If opening a movie at 7 PM on Thursday makes sense, why not 5 PM or 3 PM? Hell, why not just open it at midnight on Thursday? Fox distribution president Chris Aronson admits, "There's a limit. At some point, you might as well just open it a day earlier."
And besides that, part of what makes a midnight screening feel special is the fact that it's not for the faint of heart. Only the diehards line up at 9 to see the new Hunger Games installment or Marvel movie at 12, and the excitement of being surrounded by other enthusiastic fans is part of the fun. I don't know if a 7 PM or 10 PM screening could replicate that same feeling.
Do you think pushing openings earlier is a good idea?