Ennio Morricone Won't Work With Quentin Tarantino Again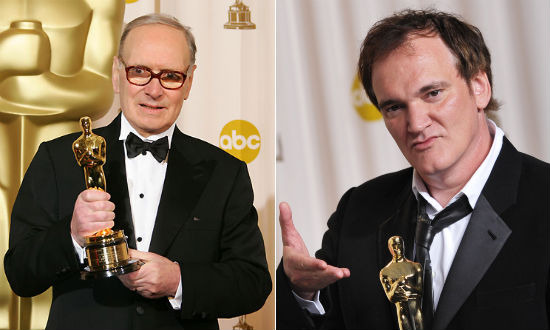 Legendary composer Ennio Morricone has some choice words for one of his biggest fans, Quentin Tarantino. The composer behind such movie music masterworks as The Good, The Bad and The Ugly and The Mission has his music prominently used in Tarantino's latest film, Django Unchained. However, Morricone recently stated that he doesn't like how Tarantino works with music and wouldn't work with him again. Read his quotes below.
According to the Hollywood Reporter, Morricone was speaking to students at Rome's LUISS University and said the following when asked about the Oscar-winning writer/director:
I wouldn't like to work with him again, on anything. He said last year he wanted to work with me again ever since 'Inglourious Basterds,' but I told him I couldn't, because he didn't give me enough time. So he just used a song I had written previously.
He continues:
[Tarantino] places music in his films without coherence.... You can't do anything with someone like that.
And then, as if adding insult to injury, he said he didn't like Django Unchained that much.
Tarantino is generally considered among the best directors around in terms of music selection (it's a small list that includes Scorsese, Wes Anderson, Crowe and a few others) so hearing this from a legend like Morricone is extremely surprising. Then again he's 84 years old and maybe he just doesn't have the same sensibilities as his Django director.
What do you think about these quotes?