'Scary Movie 5' Trailer #2: Proving That Some Moments Should Never Be Taped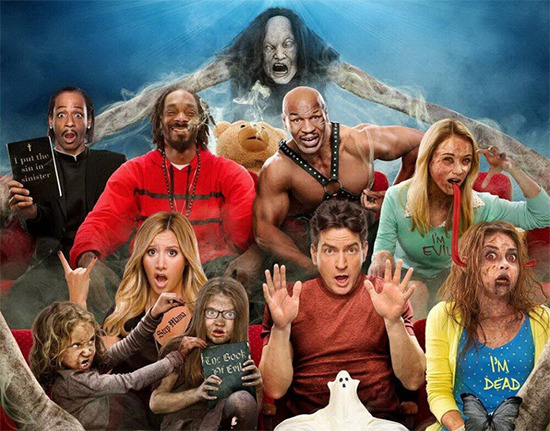 It's something of a crime that Scary Movie 5 is being sold using Danny Elfman's great theme from Beetlejuice, but since the whole movie looks like something of a crime, I guess it's just par for the course.
The movie continues the series' goal of parodying big horror movies, and this trailer incorporates a bunch of gags that riff on Evil Dead and Mama, among other movies. It works about as well as the first trailer did, which is to say that your mileage with this one will probably vary based on
The trailer, which isn't set up as a red-band, but might not be safe for work thanks to a shower scene.
The film features Erica Ash, Charlie Sheen, Molly Shannon, Terry Crews, Marisa Saks, Heather Locklear, Jasmine Guy, Angie Stone,Kate Walsh, Angela "Big Ang" Raiola, Sherée Whitfield, Mike Tyson, Audrina Patridge, Kendra Wilkinson and Katt Williams. It opens on April 12.
In the film, snooty, aloof, imperious, and oversexed French dance company director Pierre is putting on a new production. Jody (Tisdale), a Caucasian late-20s mother of two and her late-20s African American friend Kendra (Ash) are both vying for the lead in the production. Jody's extremely controlling former dancer mother is determined that Jody will have the brilliant career that eluded her. The highly skilled mid-30s Diva veteran dancer with the company, Heather Daltry (Shannon), gets cut from the production and goes berserk.