Check Out This Exclusive Concept Art From 'The Croods'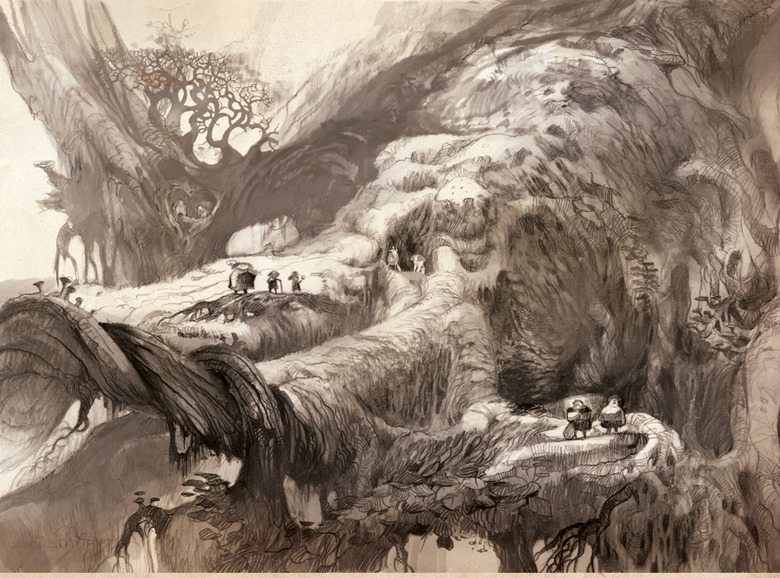 We may receive a commission on purchases made from links.
Movie stars, directors, producers and writers get the credit, but without concept artists they'd be nowhere. That goes double for an animated feature like The Croods, which is about an isolated family discovering a world of wonder and beauty they never thought imaginable.
The film, featuring the voices of Nicolas Cage, Ryan Reynolds Emma Stone, Catherine Keener, Clark Duke and Cloris Leachman, is out March 22 and it'll be followed by The Art of the Croods, a hardcover book with over 400 pieces of concept art written by Noela Hueso.
/Film is proud to exclusively debut five piece of Croods concept art from the book, each showing a beautiful new facet of the DreamWorks film.
Here are five exclusive concept images from The Croods, along with the book cover. Click on each for the high-res versions.
The book will be available March 26. Read more at Amazon.
The Croods takes us back to the beginning, to a previously undiscovered era known as the Croodaceous period, a time when Mother Nature was still experimenting and the animals, flora and fauna we know today hadn't evolved yet. Trying to find their evolutionary niche are The Croods, a family who must adapt to survive after their cave home is destroyed.
The Art of The Croods traces the evolution of the comedy adventure movie with over 400 pieces of concept art, character sketches, storyboards and digital paintings, along with interviews with the key animation talent.