Cool Stuff: Ken Taylor's 'Beetlejuice' And Two New 'Game Of Thrones' Posters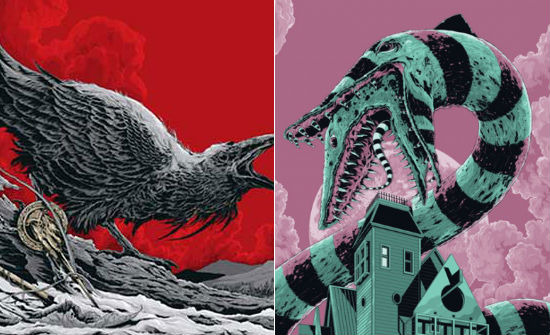 Mere hours after Martin Ansin's Taxi Driver was announced and two days away from a huge gallery show, Mondo has revealed three brand new posters. Two are the third and fourth entries in their Game of Thrones series leading up to the March 31 premiere. The third is the first image from Friday's Stout/Taylor show: Ken Taylor's Beetlejuice.
All the particulars, and full images, are below.
Thanks to Badass Digest, IO9 and Indiewire for posting the below posters. Check them out and read more after the images.
Beetlejuice will first be released at Friday's Gallery show in Austin (click here for info). The regular is a 24" x 36" screenprint in an edition of 400. Cost is $50. The black and white variant is an edition of 205 and costs $75.
Both Game of Thrones posters go on sale Thursday at @MondoNews. North of the Wall by JC Richard is a 15.5" x 36" screenprint in an edition of 365. Cost is $45. Harbinger by Ken Taylor (yes, the same Ken Taylor. The guy is a machine and still has several pieces to reveal for the show on Friday) is a 21" x 36" screenprint in an edition of 440. Cost is $50. The gold variant is $75.
Will that be it before Friday? Let's hope so. Either way, check back then for Tyler Stout's gallery work.