Sequel Bits: 'Kick-Ass 2', 'G.I. Joe: Retaliation', 'Star Trek Into Darkness', 'Beetlejuice 2', 'Roger Rabbit 2', 'Grown Ups 2', 'Willow 2', 'Anchorman: The Legend Continues', 'The Expendables 3'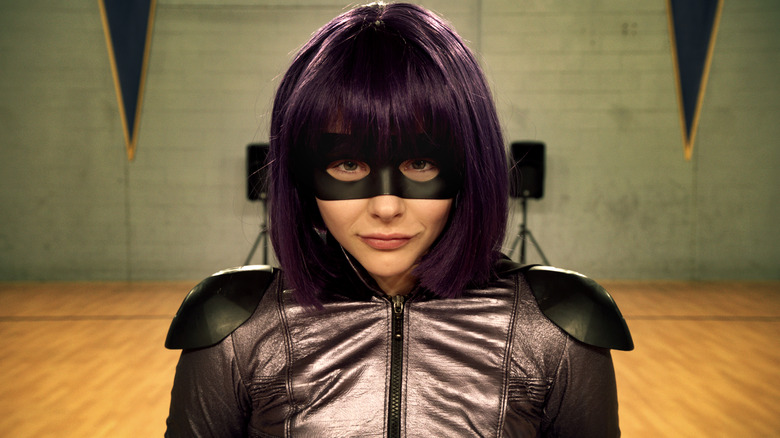 Today's Sequel Bits is stuffed to the brim with images, quotes, tweets, and more. After the jump:
Would Bryan Singer ever direct a Star Trek movie?
Damon Lindelof explains all the secrecy about the villain
Seth Grahame-Smith gets cracking on Beetlejuice 2
Steven Seagal's out, Jackie Chan's in for Expendables 3
Willow and Roger Rabbit sequels offer non-updates
Anchorman 2 will feature Champ Kind, restauranteur
The Happy Madison boys goof off in Grown Ups 2 posters
Storm Shadow looks especially badass in new G.I. Joe pics
Kick-Ass 2 reveals six new high-res images and a poster
It's a very different thing jumping into someone else's franchise, someone else's cast. [...] I'm like, the pressure of doing it would freak me out. Or might freak me out. That being said, if someone presented a story and a structure and the original director was supporting you, really supporting you and producing with you and behind you then maybe it would be a great experience.
Fair enough. And if you're wondering how he feels about possibly tackling J.J. Abrams' other big sci-fi franchise, the answer is pretty much the same. [IGN]
Of all the secrets surrounding Star Trek Into Darkness, perhaps the most jealously guarded one is the true identity of Benedict Cumberbatch's villain. Writer Damon Lindelof says there's a good reason for that.
The audience needs to have the same experience that the crew is having. You're Kirk, you're Spock, you're McCoy, so if they don't know who the bad guy is going to be in the movie, then you shouldn't know. It's not just keeping the secret for secrecy's sake. It's not giving the audience information that the characters don't have.
Plus, he doesn't want to spoil the surprise.
[People] know that if I said it to them, they would have a five-second rush of exhilaration followed by four months of being completely and totally bummed out that they can't tell anybody else and that when it gets revealed in the movie, it will have been spoiled for them. That's why they're called 'spoilers,' they're not called 'awesomes.'
In any case, we don't have long to wait now. Star Trek Into Darkness opens May 17. [Hero Complex]
The very busy Seth Grahame-Smith has barely had a moment to breathe in the past year, but it appears he's finally ready to turn his attention to Beetlejuice 2. The writer hinted as much in a recent tweet.
It's showtime... http://t.co/2iurmIPMS4

— Seth Grahame-Smith (@sethgs) March 12, 2013
Maybe if Grahame-Smith types "Beetlejuice" three times in a row Michael Keaton will drop by and pitch in. [STYD]
Sylvester Stallone is excited to tell Twitter all about his work on The Expendables 3. As of now, Steven Seagal is out, Jackie Chan may still be in, and some younger stars are being sought.
EX3 needs NEW blood and more humor.... The films were always meant to be more on the humorous side with moments of drama

— Sylvester Stallone (@TheSlyStallone) March 13, 2013
No S. Seagal, sorry ,but maybe we get lucky with J. Chan! And some young bloods!!!

— Sylvester Stallone (@TheSlyStallone) March 13, 2013
By young I mean 22 to 27. Not big bruisers but tech wizard, super brains and a young woman who is not a sex symbol but funny ,tough,REAL

— Sylvester Stallone (@TheSlyStallone) March 13, 2013
Got any ideas for the "fresh blood" he wants? Expendables 3 has no release date yet, but is expected to land next summer or so. [via Screen Rant]
25 years after its release, Willow is still fondly remembered by those who caught it in their youth. But based on star Warwick Davis' comments, it doesn't sound like there are any plans to refresh those memories.
There have been conversations [about a sequel] throughout the years — hopefully some of them joking ones. I had a conversation with Ron [Howard] and George [Lucas] and said 'You know people would love a sequel to the movie.' George said, 'Yeah we thought about it, but if we did it, we would have to recast 'cause you are too old.' [Laughs] And that's where the conversation ended. I think he was joking. I don't look that different. Ron and I were together a couple of weeks ago and we look the same.
At this rate, it sounds like Davis has a better chance of landing a role in Star Wars Episode VII. At least that project exists. [Moviefone]
There's been so much back and forth on a Roger Rabbit sequel over the past few years, that not even Charles Fleischer, who voiced the iconic character, knows where it stands right now.
I would say that the update is that there are rumors. Because I'm not an executive at Disney studios — or at least I wasn't before this interview — the answer would fall outside my canon. If it were within my decision-making capacity, I would more than love to do more with Roger. I think there's a lot of people that would, too and that leads me to believe that it could happen. If something happens once, it might happen again.
Basically, it sounds like that finished script is still gathering dust in Disney's inbox. Just like it has been for the last many months. [Coming Soon]
Racial diversity, cable news networks, and the Big Apple won't be the only new challenges faced by the Channel 4 News Team in Anchorman: The Legend Continues. Champ (David Koechner), at least, will also tackle the unique difficulties of restaurant ownership.
Christina Applegate and Harrison Ford were also spotted on the Atlanta set, suggesting Champ's dining spot has a following among his fellow TV newspeople. Hopefully we'll get to step inside when Anchorman: The Legend Continues premieres December 20. [AICN]
A new poster for Grown Ups 2 shows Adam Sandler doing exactly what he's been doing for his entire adult life: acting like a bratty little kid. Check out the new poster below.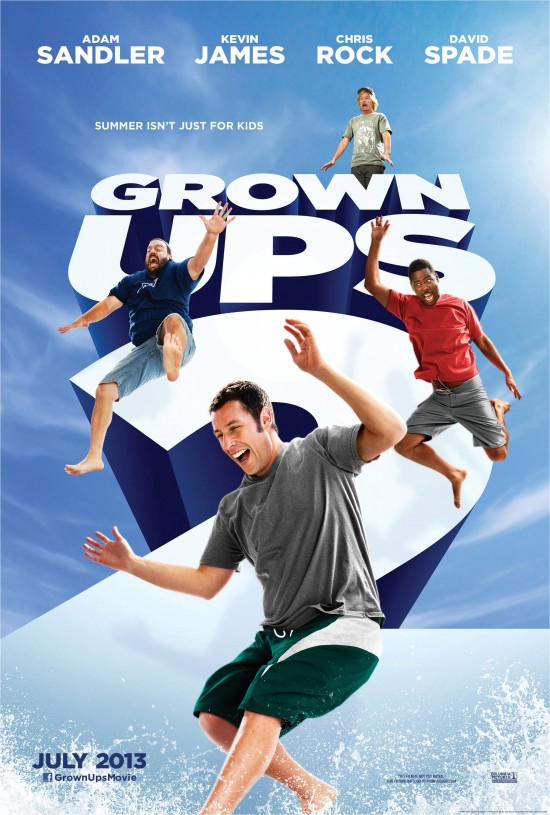 Maria Bello, Salma Hayek, Maya Rudolph: You are better than this. Grown Ups 2 opens July 13. [Screen Crush]
With just a weeks to go until its long-delayed release, G.I. Joe: Retaliation has revealed a few more photos. Mostly they just highlight how badass Storm Shadow (Byung-hun Lee) looks.
The rest of the cast can be seen when G.I. Joe: Retaliation opens March 28. [Coming Soon]
Kick-Ass 2 got its first trailer today, and now it also has a new poster and image gallery to go with it.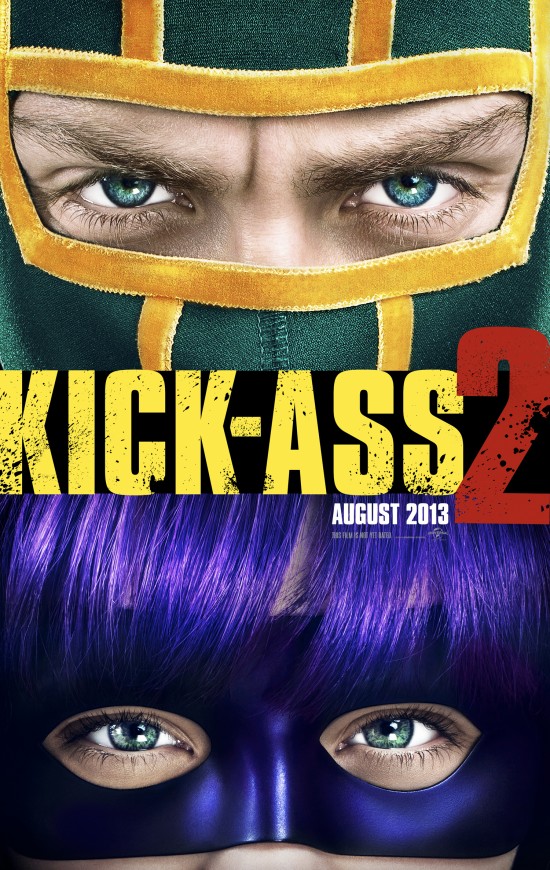 The adventures of Kick-Ass (Aaron Taylor-Johnson) and Hit-Girl (Chloë Grace Moretz) continue August 16. [Collider]