Watch Disney's New Mickey Mouse Short Film 'Croissant De Triomphe'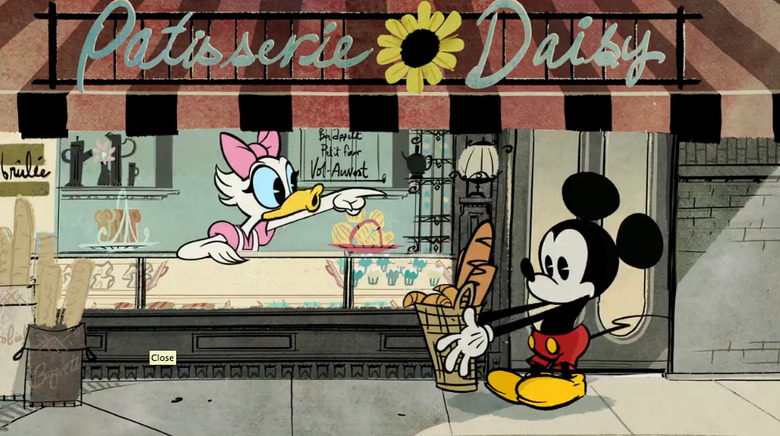 Disney is finally ready to bring back the mouse. Mickey Mouse, who made his debut in the 1928 black and white animated short film Steamboat Willie has appeared in hundreds of films over the years. But in recent years, the character has been primarily slumming in preschool television programing — the Mouse has only starred in three films since 1980.
But that is about to change. Disney has released a sneak preview of a new short film Croissant de Triomphe, which tells the story of what happens when Minnie's cafe runs out of croissants, and Mickey must deliver them to her fast, fighting wild traffic and other obstacles across Paris.
Watch the short film now thanks to Disney.com (thanks to grizzlybrice)
Disney Animation has teamed with Paul Rudish (Dexter's Laboratory, The Powerpuff Girls) to give the mouse a new modernized look. The 19 new short cartoons take place in "contemporary" city settings such as New York, Paris, Beijing, Tokyo, Venice, the Alps and Santa Monica, but feature an art-style throwback to the classic 1930s designs of the original Walt Disney shorts. I already love the look. Disney explains:
Produced in 2D animation, the design esthetic for the Mickey Mouse cartoon shorts reaches back almost 80 years and borrows reverentially from the bold style of his 1930s design, but not before adding a few contemporary touches. Designs for other characters have a similar approach, favoring a "rubber-hose" cartoon style for more exaggerated animation. Background designs closely reflect the graphic design sense of 1950s and 1960s Disney cartoons. And for those true eagle-eyed Disney fans, the production team has also included the occasional homage to other icons from the storied Disney heritage.
Minnie Mouse, Donald Duck, Daisy Duck, Goofy, and Pluto will all have appearances. Stories in the upcoming cartoon shorts include:
"Yodelberg" Mickey longs to visit Minnie atop her mountaintop chalet but quickly realizes that the threat of avalanche has made the trek up the mountain more challenging than usual.
"No Service" Mickey and Donald try to buy lunch from a beachside snack shack but are unceremoniously turned down because of the classic "No shirt, no shoes, no service" admonition (of course, Mickey doesn't wear a shirt and Donald doesn't wear shoes!).
The other shorts will begin showing up on June 28th 2013 on the Disney Channel. Modern audiences know Mickey from Disneyland and Disney World, but many teenagers today haven't really seen him in action. I'm glad the Disney is trying to expose the mouse to a new generation, but I still think they could go further. I wish Disney had the guts to include some of the better short films attached to the theatrical releases of their upcoming films.