'Mad Men' Season 6 Poster Looks Awfully Sketchy; Featurette Teases New Story Directions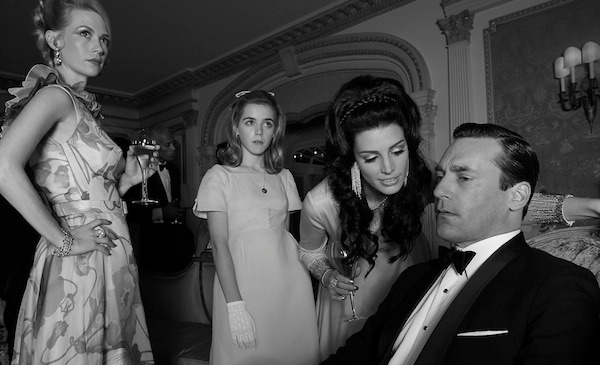 Matthew Weiner's intense secrecy can get a bit frustrating for fans eager to know more, but it has its upsides as well. One is the fact that even the barest hints about Mad Men turn into an exciting guessing game.
After a batch of totally unrevealing promo stills and an even more opaque teaser trailer, we now have our first look at the official Season 6 poster. There's still no direct indication of where the new episodes are headed, but there are plenty of clues about key themes coming up. Even better, said clues are depicted by Brian Sanders, a veteran illustrator once employed by Stanley Kubrick to paint and draw scenes from the set of 2001: A Space Odyssey. Hit the jump to check it out.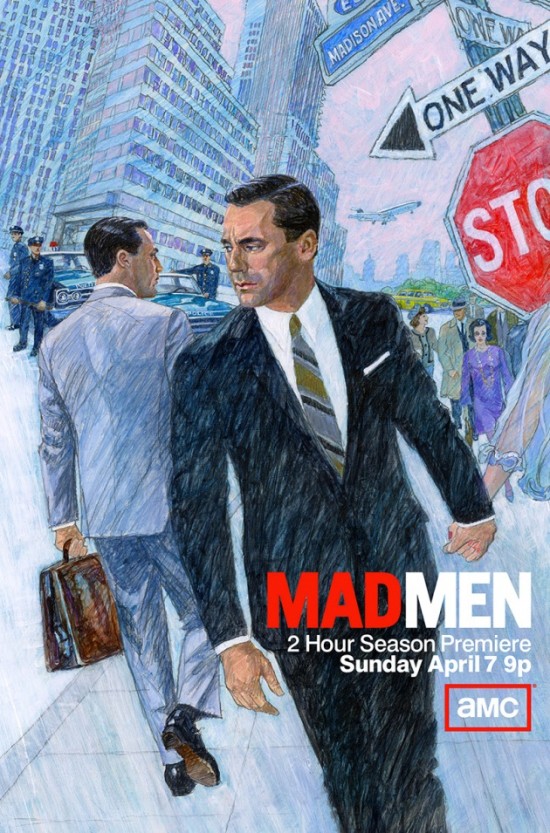 As with posters from previous seasons, the scene depicted is more symbolic than literal. The off-kilter angle suggests that Don's world will be thrown off balance next season, while the "Stop," "One Way," and "Madison Avenue" signs indicate he'll find himself at a crossroads. Or something. And then there are so many other hints that seem even tougher to crack:
Why are there two Don Drapers? Does one represent Dick Whitman? Or is Don looking back with regret at his life decisions?
Whose hand is that he's holding? Is that Megan's, or has he started cheating on her?
What are the cops doing in the background? Does morality play a big role this season, or is someone literally going to get into legal trouble?
Where's the plane in the background headed? We already know from set photos that characters are headed to LA and Hawaii this season, but this particular craft's destination may be more figurative.
And so on, and so forth. Feel free to discuss your guesses in the comments, or just sit back and enjoy the art for the beautiful, interesting work that it is. For fun, we've also included the main promo posters from all past Mad Men seasons in the gallery below.
Mad Men returns April 7, as indicated by the ad. Here's a featurette in which creator/showrunner Matthew Weiner and Jon Hamm, Jessica Pare, and Rich Sommer hint about what we can expect from the new season.