Disney's 'Oz The Great And Powerful' Ignites A Rivalry With 'Wizard Of Oz' Owner Warner Bros.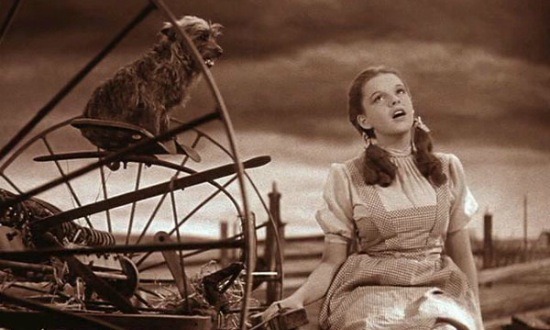 When people think of The Wizard of Oz, they think of the 1939 film starring Judy Garland. Yellow brick roads, munchkins, ruby slippers, the wicked witch, all that stuff. Fast forward about 75 years and Disney releases Oz the Great and Powerful, a prequel that features iconography very similar to, but not exactly the same, as the famous film. The reason? Warner Bros. owns the rights to the 1939 classic, but not the L. Frank Baum book it's based on, The Wonderful Wizard of Oz. Sam Raimi and his team were very careful not to use any of Warner Bros.' intellectual property, going so far as having lawyers present during production to make sure they didn't cross the line. So there are no ruby slippers, the witch isn't the same color green, the Emerald City looks different, etc. It's close, but just different enough to avoid a lawsuit.
On its opening weekend, Disney and Raimi's gamble paid off, grossing an impressive $80 million and work on a sequel has begun. The cash is rolling in for the Mouse House much to the chagrin of Warner Bros., who rightfully feels a certain ownership to the property.
The Los Angeles Times has a fascinating article on how the success of Oz will not only help Disney, but set up a major rivalry between them and Warners who has several Oz related projects in the pipeline including multiple movies at various stages of development.
According to the Los Angeles Times article, when Disney and Raimi went into production on Oz the Great and Powerful, Warner Bros. had three Oz films in development:
There was a sequel titled "Oz: The Return to Emerald City," about Dorothy's granddaughter returning to Oz to fight new evil and written by "A History of Violence" scribe Josh Olson; "Surrender Dorothy," a modern-day spin on the tale that was set up with Drew Barrymore's production company; and "The Wizard of Oz," Del Toro's nonmusical version penned by "Shrek Forever After" writer Darren Lemke and set to be produced by the company behind the "Twilight" films.
That last one reportedly even made it to a "greenlight committee" with then studio head Alan Horn, but they passed on it, cautious of messing with a classic or competing with Disney. A few months later, Horn moved to Disney. He wouldn't comment on the rivalry to the Times, but Disney production chief Sean Bailey, said the following:
I don't want to read too much into [the Warner vs. Disney Oz rivalry]. When we started on this road and throughout we thought, 'This was a big, amazing world with so many directions to explore.' We thought it was worthy of further exploration. I think it is as simple as that.
Currently, Warner Bros. has a new Wizard of Oz Blu-ray on the way, a TV show called Red Brick Road and tons of merchandise hoping to capitalize on one of their best known films. There is also the possibility one of the above features could be revived now that they know the public is open to Oz.
That raises the question of public perception. Do general audiences realize Disney's Oz isn't the same at the Oz they're familiar with? Do they even care? They might if Warner Bros. releases their own Oz movie and James Franco isn't the Wizard. Or they might just want more Oz, period.
Head to the Los Angeles Times to read even more about this story, including how merchandising plays into it. But long story short, it seems audiences this weekend made it sure the world of Oz will be around for a long time to come.