Cool Stuff: Kevin Tong's 'Sights Unseen' Exhibit Showcases The Process Behind Movie And Music Posters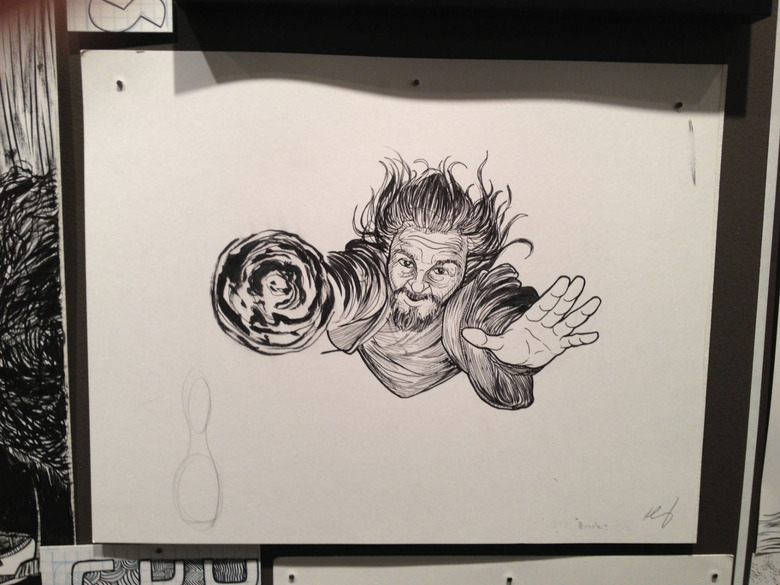 Kevin Tong's Sights Unseen art exhibit is like when Carrie goes nuts on Homeland and puts up a huge bulletin board of work. It's overwhelming and blinding, but totally genius. Tong, one of the most well-respected and talented screenprint artists working today, has created an exhibit not just for movie fans. It's for everyone.
Comprised of over 200 drawings from the entire course of Tong's career, the exhibit hits like a ton of bricks. It's difficult to believe he's assembled this much work in one space. As you begin to explore the nooks and crannies of the gallery, you'll find beautiful movie pieces, music pieces and more general art pieces that Tong created on the way to larger, more commercial work. It's one of those exhibits fans will have to explore again and again because they'll find something new and exciting every single time through.
Tong has done movie posters for Mondo, Gallery 1988, Spoke Art, worked for bands like Phish, The Black Keys, Bon Iver and many more. But all of it started with these drawings and seeing them as a whole is not only to see the arc of an artist's career, it spotlights an evolving style and ideas that are radically out of the box.
Sights Unseen is currently on display at the Phone Booth Gallery in Long Beach, CA through April 3. Below, we've captured just a few of the movie and pop culture related pieces.
Here's a panorama of the entire space to give you an idea of its awesomeness. Click for a bigger view. The gallery is located at  2533 East Broadway, Long Beach, CA. Visit phoneboothgallery.com for more info.

And here's a very small sampling of the work. These pieces range in price from $50 to $1000 but most of the pieces in the show are around $200 and vary in size and shape. Mouse over each for a better description. There's also this awesome screenprint that OMG Posters debuted as well as a few other surprises.
Most of these were turned into screenprints that we featured on the site. Here are some examples: Fight Club, Sex Bob-Omb, Forbidden Planet, Being John Malkovich.
If you're in Long Beach, definitely check out this gorgeous exhibit. Or keep it locked to Phone Booth's Facebook to see more of the show online. [UPDATE: Here's the whole show, now online.]