Thanks For Helping /Film Raise $10,000 For FilmAid's Work In The Dadaab Refugee Camp!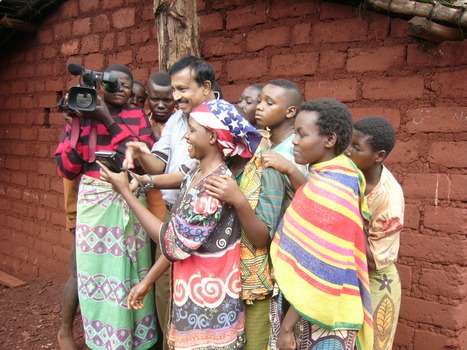 Well, you guys really did it: through our fundraiser, as of yesterday afternoon, the readers of /Film and listeners to the /Filmcast have raised over $10,000 for FilmAid! The work that FilmAid is doing there is changing lives, so by the transitive property, we're now helping to change lives! I'm gobsmacked, humbled, and so, so grateful that you've all joined us for this journey — hopefully, the first of many.
There's still much work to do in terms of planning the logistics of a 10-hour long broadcast. But in the meantime, mark your calendars: March 30th, 2013, will be an epic day of live /Filmcasting. And don't let the fact that we've already reached the goal stop you from giving even more.
FilmAid's full press release follows after the jump.
***
Listeners and readers of the /Film podcast have contributed more than $10,000 in support ofFilmAid International, an organization that uses film and media to provide life-saving information, education and psychological relief in refugee camps and communities in need around the globe. 
With more than 10,000 followers, /Film podcast host Dave Chen asked readers and listeners to each make a small donation with a goal of $10,000. In return, Chen and his colleagues would broadcast a live 10-hour episode on March 30 featuring special guests. "We wanted to know just what was possible if we asked our followers to get behind a good cause," said Chen, "We didn't expect to meet our goal weeks before March 30."
"Film has changed my life," says Peter Sciretta, owner and editor of slashfilm.com. "I'm glad we were able to help FilmAid in using the projected image to help change the lives of others less fortunate."  Slashfilm has received support from the film community in raising awareness for the campaign, with tweets from Colin Hanks, Damon Lindelof, Seth Rogen, Jon Chu, @Imax and more.
Funds raised for FilmAid will go to its programs in Dadaab, the largest refugee camp in the world, temporary home to more than 400,000 people fleeing drought and armed conflict in Somalia. Working in partnership with the UN Refugee Agency and global NGOs, FilmAid screens films addressing critical health and safety issues. It also trains refugee filmmakers to tell their stories and address community issues in their own voices.
"Slashfilm's support comes at a critical time and provides a significant, and much appreciated, boost to FilmAid's programs in Dadaab," says FilmAid Executive Director Liz Manne.
For more information about FilmAid International – www.filmaid.org
For more information about /Film – www.slashfilm.com
To make a donation – www.filmaid.org/slashflm