TV Bits: 'Game Of Thrones', 'Hannibal', 'Mad Men', 'Breaking Bad', 'Downton Abbey', 'Boardwalk Empire', 'The X-Files', 'Beverly Hills Cop', And More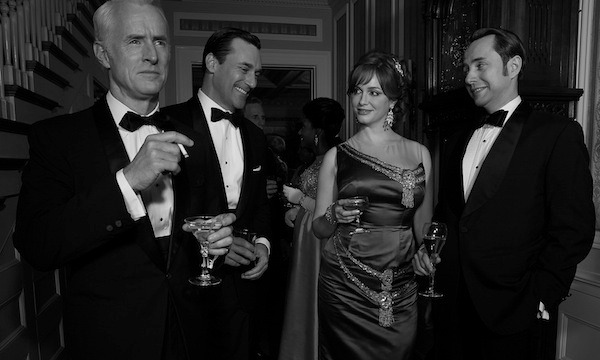 It's been a few days since our last TV Bits (sorry!), so we have a ton of stuff to catch up on. After the jump:
Alexis Bledel, Kyle McLachlan, Hope Davis, and more get pilots
Downton Abbey loses one character but gains six more
Jeffrey Wright will be a series regular on Boardwalk Empire
A bunch of Fox shows including The Following get early renewals
The Zero Hour has gets cancelled by ABC after just three episodes
Will Jimmy Fallon take over for Jay Leno on The Tonight Show?
The X-Files finally gets a tenth season... as a comic book
Steven Soderbergh's Behind the Candelabra gets EW cover
Hannibal and Mad Men offer up not very revealing teasers
See character posters and an extended trailer for Game of Thrones
Peek behind the scenes of Breaking Bad's final season
Judge Reinhold will re-team with his old partner Eddie Murphy on CBS' Beverly Hills Cop
Sara Gilbert will terrorize or be terrorized by Ari Graynor in CBS' Bad Teacher
Alexis Bledel and Jason Ritter will star in Fox's Gavin & Stacey remake Friends & Family
The Duplass brothers join forces with Melanie Lynskey for their HBO series Togetherness
Entourage alum Kevin Connolly finds new bros in CBS' Friends With Better Lives
Hope Davis joins Charlie Cox in the Kennedy-esque family at the center of CBS' The Ordained
Beau Bridges is Will Arnett's new TV dad on Greg Garcia's untitled CBS comedy
Bill Lawrence's TBS workplace comedy Ground Floor adds Pitch Perfect's Skylar Astin
BSG reunion alert! Michael Trucco will portray Tricia Helfer's big bro on ABC's Killer Women
Buffy alum Anthony Head will be crowned king in The CW's Hunger Games-esque The Selection
Ben McKenzie lands a co-lead role in CBS' The Advocates, raising questions about the fate of Southland
J.J. Abrams and Alfonso Cuaron's NBC supernatural thriller Believe picks up Kyle MacLachlan
Teo Halm will be Cory (Ben Savage) and Topganga's (Danielle Fishel) son in Disney's Girl Meets World
Scoot McNairy (Argo) joins Lee Pace in AMC's '80s personal computing boom drama Halt & Catch Fire
Change is coming to Downton Abbey, as yet another character prepares her exit. Siobhan Finneran, who plays O'Brien, has confirmed that she won't be back for Season 4.
Good thing there'll be plenty of other new cast members to fill the gap, including Tom Cullen and Harriet Walter as Crawley family friends; opera star Kiri Te Kanawa as a guest; Julien Ovendon as an aristocrat; Joanne David as a duchess; and Nigel Harman as a valet. Additionally, Shirley MacLaine will reprise her role as Lady Cora's mother. [Deadline, HitFix]
In his first series regular role, Jeffrey Wright has joined the cast of Boardwalk Empire's upcoming fourth season as "Valentin Narcisse, Doctor of Divinity, philanthropist, student of culture and the man who runs Harlem." He joins Ron Livingston, another new regular who was added last week. Season 4 is shooting now and will air sometime this year. [Deadline]
Fox isn't procrastinating when it comes to its favorite shows. The network has handed early renewals to freshman series The Following and The Mindy Project, along with New Girl and Raising Hope. In addition, they're in negotiations for a fifth season of Glee.
[Deadline]
There's less cheerful news for ABC's The Zero Hour, which has already been cancelled after just three episodes. The series was a bust both critically and commercially, so its demise probably won't be mourned by many. [Vulture]
Is Jay Leno getting ready to hand over The Tonight Show again? Though NBC's refusing to confirm anything, insider sources say that the network wants to make the 2013-2014 season Leno's last on the series, with Late Night host Jimmy Fallon poised to the over in summer 2014. If the rumor turns out to be true, let's just hope Fallon has better luck than the last guy who transition into that spot. [THR]
The X-Files is getting finally getting a tenth season. There is one major catch however: It comes in the form of a comic book by IDW. The new title will be executive produced by X-Files creator Chris Carter and written by Joe Harris, with art by Michael Walsh and colors by Jordie Bellaire. Here's a summary of the plot:
In the opening story arc, "Believers," readers will catch up with Dana Scully and Fox Mulder, living normal lives together under secret identities. However, a visit from an old friend threatens to rip them from suburban anonymity, as they learn that someone is preying upon everyone involved in THE X-FILES.
The X-Files: Season 10 hits shelves June 19. [via Bloody Disgusting]Entertainment Weekly has an extra-glitzy look this week thanks to Behind the Candelabra, Steven Soderbergh's Liberace biopic for HBO. Michael Douglas stars as the flamboyant pianist, and Matt Damon as his much younger lover.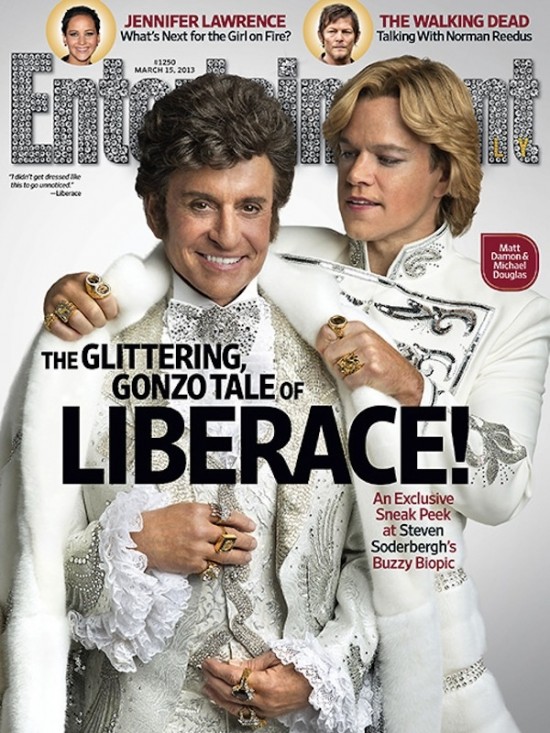 Behind the Candelabra airs May 26. [EW]
A sleek new trailer for Mad Men's sixth season has just arrived... and in typical Mad Men fashion, it reveals almost nothing at all. But at least everyone looks really nice.
Mad Men returns with a two-hour season premiere on April 7. [Deadline]
The new trailer for NBC's Hannibal doesn't offer too many plot points, either, but it does a good job of conveying the disturbing and disturbingly witty atmosphere of the series. Be warned that it gets kind of gruesome.
Hannibal debuts April 4. [via Cinema Blend]
If that first Game of Thrones trailer left you jonesing for more, HBO has now unveiled a longer cut of that trailer that adds about 25 seconds to the runtime. Not too shabby, considering the original version was just 60 seconds long.
We also have a series of stark (no pun intended) character posters for the show's key figures, which you can flip through in the gallery below.
Game of Thrones' third season kicks off March 31. [via HitFix]Breaking Bad is an dark, disturbing, heart-pounding thrill ride. The set of Breaking Bad, on the other hand, actually looks like a pretty fun, lighthearted place.
There are very few clues to be found here, but it's just great to see Bryan Cranston, Dean Norris, Bob Odenkirk, and Aaron Paul back in costume again. The second half of Breaking Bad's final season airs this summer on AMC. [via Cinema Blend]