'After Earth' Trailer: Will Smith Teaches His Son To Fight Fear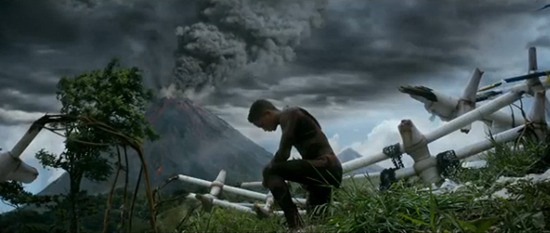 The first trailer for M. Night Shyamalan's After Earth was a pretty tightly controlled thing, showing characters played by Will and Jaden Smith stranded on Earth in a future that has seen evolution turn decidedly against humans.
This second trailer gives more context to the story, showing a bit of what the two guys were doing before crashing on Earth, an establishing the fact that there is conflict between father and son just as well as between the humans and everything else on Earth. It also gives us some hint of what they hope to to in order to escape the planet that originally gave birth to humanity.
Because it is a Shyamalan film I have been conditioned to assume that there's something here that we're not seeing, but so far this looks like his most promising film in some time. That's enough for now. Check out the new footage below.
Apple has the trailer. After Earth opens on June 7.
A crash landing leaves teenager Kitai Raige (Jaden Smith) and his legendary father Cypher (Will Smith) stranded on Earth, 1,000 years after cataclysmic events forced humanity's escape. With Cypher critically injured, Kitai must embark on a perilous journey to signal for help, facing uncharted terrain, evolved animal species that now rule the planet, and an unstoppable alien creature that escaped during the crash. Father and son must learn to work together and trust one another if they want any chance of returning home.