VOTD: 'Wall-E' And 'Oblivion' Trailer Mash-Up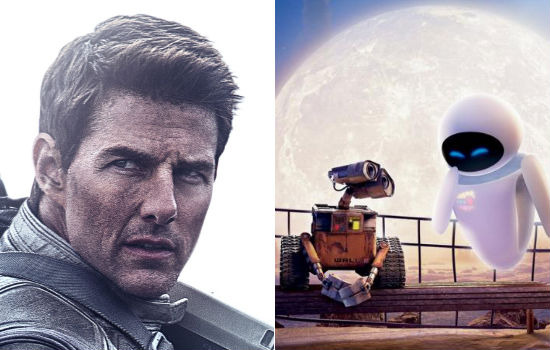 Many who watched the trailer for Joseph Kosinski's upcoming sci-fi film Oblivion might have had the same lingering question. "Haven't we seen this movie before?" The aesthetic is certainly similar, but many sci-fi films are. It's the story that rings a bell. A lone wolf, cleaning up a desolate Earth after the planet was destroyed. Hmm. Wait a minute, it's the same thing as Wall-E!
Andrew Stanton's Oscar-winning 2008 Pixar film seems to share a very similar DNA with the upcoming Tom Cruise action film, and YouTube user Giant Mimosas took the visuals from the former and audio of the latter creating an eerily perfect mash-up that's both funny and clever. Check it out below.
Thanks to Blastr (via Movies.com) for the video
Obviously, Oblivion shares some DNA with Wall-E but it's pretty obvious the stories go in very different directions very quickly. Here's the Oblivion plot description:
Tom Cruise stars in Oblivion, an original and groundbreaking cinematic event from the director of TRON: Legacy and the producer of Rise of the Planet of the Apes. On a spectacular future Earth that has evolved beyond recognition, one man's confrontation with the past will lead him on a journey of redemption and discovery as he battles to save mankind.
Wait, that actually sounds pretty close, too. We'll find out more come April 19 with Oblivion opens. It co-stars Morgan Freeman, Olga Kurylenko, Andrea Riseborough, Nikolaj Coster-Waldau , Melissa Leo.