'Vacation' Sequel To Shoot This Summer With Ed Helms In The Lead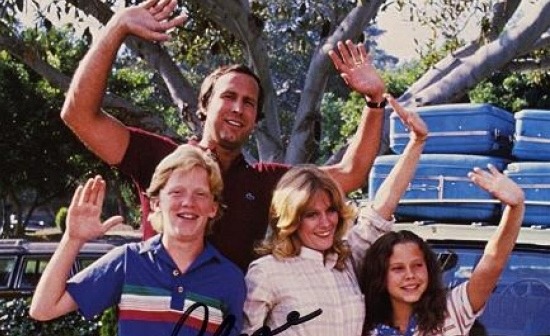 Who wants to take a road trip this summer? Apparently, John Francis Daley, Jonathan Goldstein, and Ed Helms do. Vacation writer-directors Daley and Goldstein have revealed their plans to shoot their National Lampoon sequel in Atlanta and New Mexico this summer, with Helms playing the lead role of Rusty Griswold. More casting is expected to follow shortly. Hit the jump to keep reading.
And yes, that means some familiar faces from the first film will be back. "We do [have plans to bring people back]," Daley said. Goldstein added, "We're in the process of having those conversations."
The duo didn't mention which actors they were speaking to, but Chevy Chase has to be one of them, right? It just wouldn't be a proper Vacation sequel without Chase, and we all know he's got some free time on his hands now. I'd also love to see Anthony Michael Hall worked into the story somehow, since Helms is playing the older version of his character from the original National Lampoon's Vacation.
Goldstein and Daley have become in-demand comedy writers thanks to Horrible Bosses, but Vacation will be their first time directing a feature. Goldstein explained, "I mean we've been directing shorts together, but this is our first feature. When we wrote the script we didn't know we'd be directing it and then New Line said, 'Do you wanna pitch yourselves to direct it?' And we were like 'You bet!'" "And then we looked at the script and it was like, 'who wrote this piece of shit?'" Daley joked.
Vacation reportedly follows Rusty following in his father's footsteps and taking his own family on the road for a vacation. An earlier rumor indicated that the younger Griswold family's destination would be Wally World, but it's unclear if that's still the case.