'The Hunger Games: Catching Fire' Character Portraits Reveal Dolled-Up Katniss, First Looks At Beetee And Johanna [UPDATED With Peeta, Gale, And Finnick Portraits]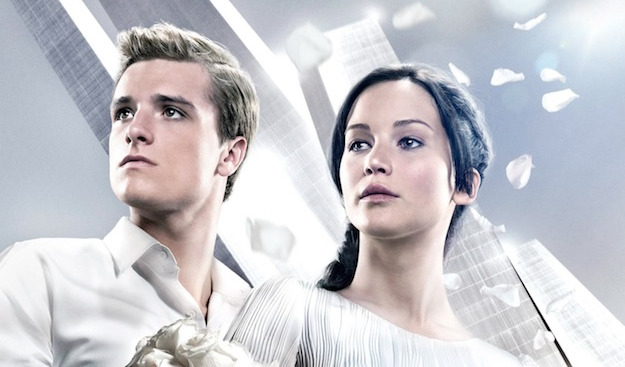 Lionsgate's series of Capitol Portraits for The Hunger Games: Catching Fire continues today with three images of former victors. Katniss (Jennifer Lawrence) refuses to take hers sitting down (though perhaps that's just due to the practical difficulties of wrangling her super-fancy frock), while our first looks at Beetee (Jeffrey Wright) and Johanna Mason (Jena Malone) hint at strong, serious personalities. Check them out after the jump.
[UPDATE #1: New portraits for Peeta (Josh Hutcherson) and Gale (Liam Hemsworth) have also been revealed. From a plot point, it makes no sense for Gale to get a portrait since he's not really connected to the Capitol in any way, but I guess from a marketing perspective it made even less sense to leave out one of the series' major characters. Hit the jump to check out the guys' posters.]
[UPDATE #2: And now there's one for Finnick Odair (Sam Claflin) as well. See his with the others after the jump.]
If Katniss' wedding looks a little like a high-fashion wedding gown, that's because it kinda, sorta is one. Katniss and Peeta's double victory at the 74th Games sent shockwaves through Panem, much to the fury of President Snow (Donald Sutherland). To save their own heads, they must sell the move as an act of all-consuming love and not dangerous rebellion. That means a public engagement, complete with plans for a lavish, stylish ceremony.
But I'm more intrigued by the first glimpses of former Victors Beetee and Johanna. Catching Fire sees Katniss and Peeta (Josh Hutcherson) crossing paths with several past winners, including the previously revealed Finnick Odair (Sam Claflin) and these two.
Beetee hails from District 3 (specialty: electronics), and won in his year through technological know-how. His appearance suggests it won't be long before we see a portrait of Wiress (Amanda Plummer), a good friend of his and another former District 3 winner.
Johanna, who comes from District 7 (specialty: lumber), beat out the others at her Games by feigning weakness, so that her competitors would underestimate her. Her prickly personality initially puts her and Katniss at odds with one another.
Directed by Francis Lawrence, The Hunger Games: Catching Fire opens November 22. Keep an eye on the film's Instagram and Facebook pages for more portraits to come.
THE HUNGER GAMES: CATCHING FIRE begins as Katniss Everdeen has returned home safe after winning the 74th Annual Hunger Games along with fellow tribute Peeta Mellark. Winning means that they must turn around and leave their family and close friends, embarking on a "Victor's Tour" of the districts. Along the way Katniss senses that a rebellion is simmering, but the Capitol is still very much in control as President Snow prepares the 75th Annual Hunger Games (The Quarter Quell) – a competition that could change Panem forever.