Giovanni Ribisi And Liam Neeson Sign Up For Seth MacFarlane's 'A Million Ways To Die In The West'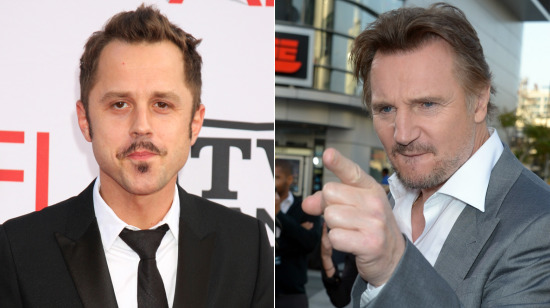 Seth MacFarlane's first foray into feature filmmaking, Ted, was an unqualified success, grossing over $500 million on a $50 million budget and even picking up some strong reviews along the way. Naturally, then, he's having no trouble recruiting strong talents for his sophomore effort, A Million Ways to Die in the West. Charlize Theron and Amanda Seyfried are already on board to star, and now they're being joined by Giovanni Ribisi and Liam Neeson. Hit the jump to read more.
Neeson is in talks to play Theron's outlaw husband, who's none too pleased that Albert is moving in on his lady. Ribisi will play MacFarlane's best friend Edward, a simple cobbler who's not getting any from his (as yet uncast) prostitute girlfriend. Edward is the one who encourages Albert to jump back into the dating pool. The role was originally offered to Jonah Hill, but Ribisi boarded when Hill passed.
Neeson's lately earned a reputation as a badass action hero thanks to Taken, but he's never been averse to dipping into the lighter side of cinema. Among his upcoming projects are The Nut Job, in which he voices a villainous racoon, and Lego: The Piece of Resistance, in which he voices a villainous henchman. His next live-action appearances will be in Jaume Collet-Serra's Non-Stop and Paul Haggis' The Third Person.
A Million Ways marks a reunion for MacFarlane with Ribisi, who played the weirdo baddie in Ted. Ribisi was most recently seen in Ruben Fleischer's Gangster Squad, and will next appear in the comedy A Many Splintered Thing. He's currently shooting the drama Papa, with Sharon Stone and Minka Kelly.
Despite Universal's vocal desire for a Ted sequel, A Million Ways will move first, with a planned May start.