Carrie Fisher Was "Joking" About Being Cast In 'Star Wars Episode VII'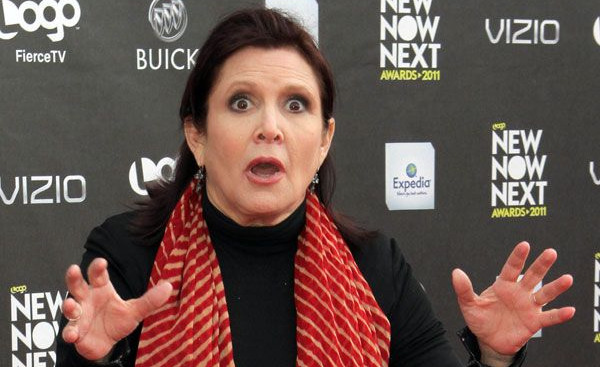 Carrie Fisher made headlines yesterday when she affirmed that she would appear in Star Wars Episode VII, as has been rumored since, well, pretty much the second the movie was announced. But it seems her statement was premature, as her camp has now clarified that the casting isn't set quite yet. Still, it seems like just a matter of time before it is. Hit the jump for more details.
Interestingly, that wasn't the first time has Fisher "confirmed" she'd appear. Back in November, a fan asked at a book signing whether she'd return, and she responded "Yes... I thought it was already common knowledge." That time, too, she quickly followed up with an insistence that she had been kidding. "She hasn't confirmed anything," a rep said at the time. "Everything you've seen has been tongue in cheek."
Nor is it the first time an original trilogy actor has hinted at a return. Mark Hamill recently stated that the producers were "talking" to him and his former co-stars, but that they hadn't signed any contracts. And there are persistent rumors thatHarrison Ford is already in talks, though the deal hasn't closed just yet.
Basically, it sounds like the trio are very likely to reprise their roles but that Disney doesn't want to issue a public confirmation until the timing is perfect. Even the wording of the rep's statement suggests that Fisher is all but signed — the person says only that "nothing has been announced," not that nothing's in the works or nothing's been confirmed.
Whenever Disney's finally ready to seal the deal, Fisher already has some cheeky ideas about where Leia might be.
Elderly. She's in an intergalactic old folks' home. I just think she would be just like she was before, only slower and less inclined to be up for the big battle. [...] [Leia still has] the bagel buns and the bikini, because probably she has sundowners syndrome. At sundown, she thinks that she's 20-something. And she puts it on and gets institutionalized.
The actress has also previously speculated (jokingly) that Leia and Han's relationship would've ended badly. "I like the idea of being Mrs. Solo, and we've just fought and fought and I killed him — but I'm sorry. I feel bad," she said. "I probably had an affair with some general."