See New Photos From M. Night Shyamalan's 'After Earth'; New Trailer Revealed Tomorrow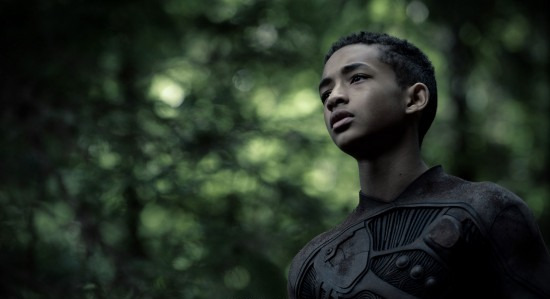 M. Night Shyamalan's stock as a director has steadily declined since his breakout The Sixth Sense, but with some luck After Earth could be the film to turn that trend around. For one thing, it's tough to go lower than the 6% RT score he got for The Last Airbender. For another, the marketing materials so far look genuinely striking, with a rich, detailed universe for the leads (Will Smith and Jaden Smith) to play in.
Now a second trailer is just around the corner, and to whet audience appetites Columbia Pictures has just revealed two new stills. Check them out and get the info on the trailer after the jump.
After Earth still looks gorgeous, but I'm not sure these photos are doing such a great job of showing off the movie's assets. The elder Smith's pants in that photo are dreadfully unflattering — it looks like the costume department just got lazy after crafting that intricate leather top — while the younger Smith looks like he's on the Hunger Games set.
The new trailer tomorrow should offer a more exciting look at the film, however. There's no word yet on what time the trailer will go up, but you can look for us to post it as soon as it goes up.
Also starring Isabelle Fuhrman, Zoë Kravitz, Sophie Okonedo, After Earth lands June 7.
A crash landing leaves teenager Kitai Raige (Jaden Smith) and his legendary father Cypher (Will Smith) stranded on Earth, 1,000 years after cataclysmic events forced humanity's escape. With Cypher critically injured, Kitai must embark on a perilous journey to signal for help, facing uncharted terrain, evolved animal species that now rule the planet, and an unstoppable alien creature that escaped during the crash. Father and son must learn to work together and trust one another if they want any chance of returning home.