'Epic' Trailer #2: A Star-Studded Voice Cast Tries To Save The Forest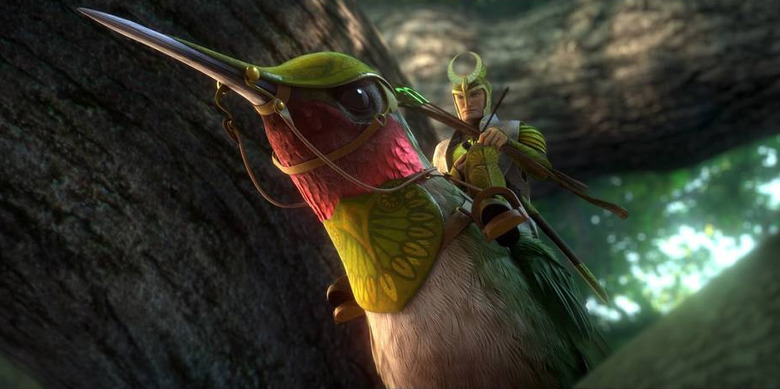 A star-studded cast works wonderfully as a marketing gimmick, but as films like New Year's Eve and Movie 43 have proven, it's no guarantee of quality. Fortunately, Blue Sky Studios' animated adventure Epic seems to have a little more going for it.
Amanda Seyfried voices Mary Katherine, a normal girl who gets caught up in an old and bitter battle between the protectors of the forest (voiced by Colin Farrell, Josh Hutcherson, and others) and the destructive forces led by Mandrake (Christoph Waltz). Beyoncé, Pitbull, Steven Tyler, Judah Friedlander, Aziz Ansari, and Blake Anderson also star. Watch the second trailer after the jump.
In contrast to animation studios like Laika and Pixar, which appeal as much to parents as to their kids, Blue Sky seems to go squarely for the younger demographic. Like Blue Sky's Rio, Horton Hears a Who!, and the Ice Age movies, Epic probably won't do much for adults on their own, but it likely won't offend any who get dragged along for the ride, either.
As far as children's entertainment goes, Epic looks pretty solid. The characters are likable without being annoying, the plot seems exciting, and there's a lot of gorgeously detailed, colorful imagery on display. And it's blessedly free of immediately dated pop culture references. Directed by Chris Wedge (Ice Age), Epic hits May 24.
EPIC is a 3D CG action-adventure comedy that reveals a hidden world unlike any other. From the creators of ICE AGE and RIO, EPIC tells the story of an ongoing battle deep in the forest between the forces of good who keep the natural world alive and the forces of evil who wish to destroy it. When a teen age girl finds herself magically transported into this secret universe, she must band together with a rag-tag team of fun and whimsical characters in order to save their world... and ours.