'Rapturepalooza' Trailer: In Which Daryl From 'The Office' Is The Antichrist, And Anna Kendrick Is Humanity's Best Hope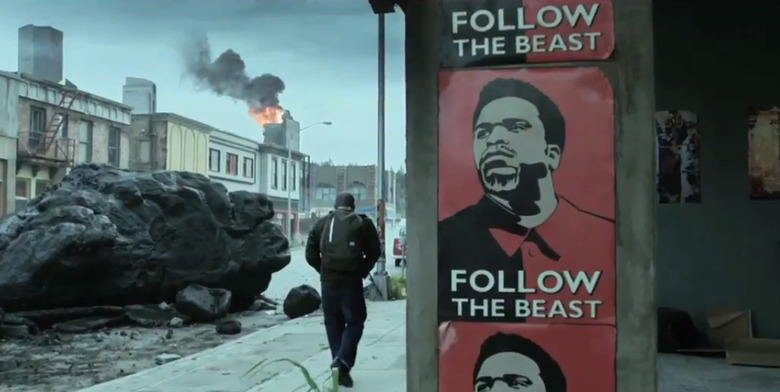 Since the world failed to end in 2012, 2013 seems to be the year we're all laughing about what could have been. Paul Middleditch's Rapturepalooza is one of three post-apocalyptic comedies due out this year, along with Evan Goldberg and Seth Rogen's This Is the End and Edgar Wright's The World's End.
Like the others, Rapturepalooza features a talented (if somewhat lower profile) comic ensemble, including Craig Robinson as the Antichrist, Anna Kendrick and John Francis Daley as a young couple who want to destroy him, Rob Corddry as Daley's father, and... is that Ken Jeong as God? Watch the red-band trailer after the jump.
IGN premiered the new trailer.
The apocalypse may be a popular subject in Hollywood nowadays, but it seems to be just now that the Rapture specifically is entering the popular imagination. Somehow I suspect Rapturepalooza will be very different in tone from the other Rapture-themed movie coming up, Nic Cage's "mainstream" Left Behind reboot.
Considering the fantastic premise and the level of talent involved, it's a bummer Rapturepalooza doesn't look better. I dig the weird energy on display, but the jokes aren't quite landing. I hope for the cast's sake that it's just a badly cut trailer. Because c'mon, how could you waste an opportunity to feature Robinson as the history's goofiest Antichrist?
Rapturepalooza was first announced two years ago as part of Lionsgate's new microbudget initiative, and is the first of those projects out of the gate. The effects look pretty cheap, as you'd expect from a film that cost less than $2 million, but that's less of a problem for an offbeat low-budget comedy than it might be for, say, a fantasy action tentpole. In fact, it's part of the film's scruffy charm.
Instead, it looks like Middleditch and his producers wisely put that money toward the talent. Thomas Lennon, Paul Scheer, Tyler Labine, Ana Gasteyer, and Rob Huebel also star. Rapturepalooza opens in theaters and on VOD May 10.