CBS CEO Les Moonves Says Season 8 Of 'Dexter' Is Its Last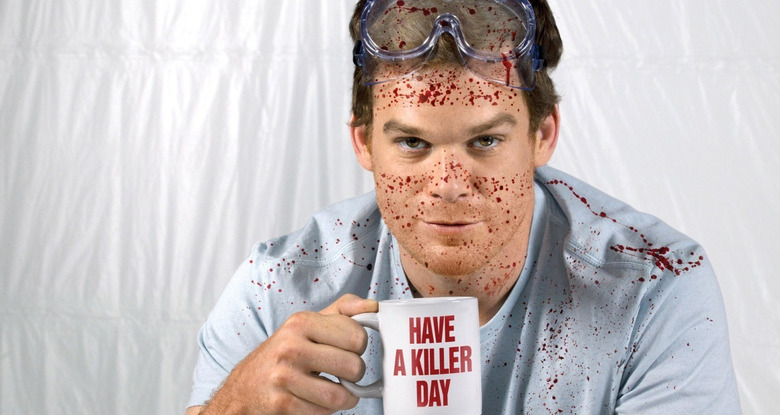 Dexter has to end sometime, but Showtime's been reluctant to say exactly when. Execs have avoided confirming the end of the series, even as they've acknowledged that it's "moving toward a definite end" in Season 8, and one producer has even floated the possibility of a movie sequel. Today, however, we have an indirect confirmation from CBS head Les Moonves that Dexter will really and truly be over after Season 8. Hit the jump to keep reading.
The possibility of a Dexter exit has been floating around since 2011, when Showtime renewed the series for two more seasons (last year's Season 7 and the upcoming Season 8). At the time, Showtime entertainment president David Nevins admitted the series probably wouldn't last beyond those two.
I'm not going to say with absolute certainty that this is the end, but that is the likely scenario, that the series is moving towards a definite end.
More recently, executive producer Scott Buck told THR in December he was treating Season 8 as the end, but left open the possibility of a last-minute change of heart.
We are absolutely writing it with an end in sight, but if we get told otherwise somewhere along the way, we'll take it in a different direction. But we are definitely working toward the finale of the series. We are indeed, yes.
After a strong start, the series ran out of steam in the middle seasons, due in part to the demands of an ongoing series. That is, they couldn't have Dexter caught or killed — or even work toward Dexter getting caught or killed — in case they needed the Bay Harbor Butcher to be up to his old tricks again come next fall. In contrast, Season 7 turned out to be the strongest in years, thanks to the higher stakes that came with moving toward an endgame.
It's true that the network could still change their minds, and that these days even a show's cancellation is no guarantee it won't return eventually. Indeed, Showtime's spokesperson is still insisting that there's "nothing confirmed" about the fate of the series. But at this point it's looking extremely unlikely that Dexter will be back for a Season 9.
Especially since, as Moonves pointed out, Showtime has plenty of other stuff to fill that gap:
Ray Donovan is coming on with Liev Schreiber which comes on with Dexter's last season starting in June. And then we have Masters of Sex, a story of Masters and Johnson, which is a very exciting show. A show that you wouldn't see on CBS but it works on Showtime. And that comes behind Homeland in September. And just announced, we're doing a series about the Vatican, which I think is rather timely, which Ridley Scott is directing for us. So we're very excited about that.
Dexter's eighth season premieres June 30.