Sam Raimi 'Would Like To Work' On An 'Evil Dead 4' Script This Summer [UPDATED]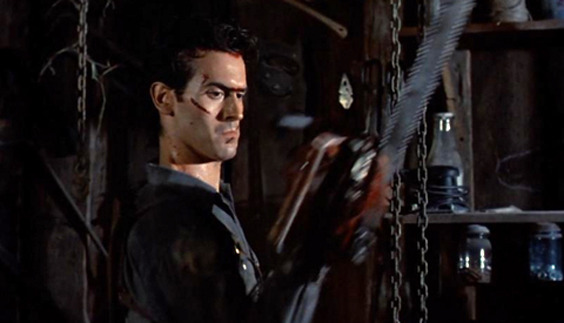 Just as the world gets ready for a Sam Raimi/Bruce Campbell endorsed remake of Evil Dead, the director himself is finally getting ready to continue the franchise. In a new interview, Sam Raimi said he and his brother, most likely screenwriter Ivan Raimi, would be sitting down to write Evil Dead 4 this summer.
UPDATE: Soon after this initial report was released, Raimi clarified his comments. Unsurprisingly, the film's future isn't as certain as the original report made it sound.
The quote came from a London press conference where Raimi was promoting Oz The Great and Powerful. Bleeding Cool first reported. [THE UPDATE IS BELOW]:
I would love to make Evil Dead 4. My brother and I plan to work on the script this summer.
Raimi has long suggested he was going to return to the franchise, but with the remake on the way many fans might have though that was the outlet. Then, a few months back, the writer/director successful stopped another company from making Evil Dead 4. The company suggested Raimi's lack of interest in the project gave them the right but they ultimately lost, leaving the door open.
If this actually happens, there are many, many questions to answer. Some of which, we assume, will be partially answered once Raimi starts doing press for the Fede Alvarez-directed remake out on April 5. The biggest one has to be, will Bruce Campbell – still kicking ass at the age of 54 – once again play Ash? It seems like a foregone conclusion, even if it's just to pass the torch to a new generation. And will Raimi's film dovetail with any possible Alvarez sequels? Like I said, many questions.
But Raimi himself said he's writing the movie this summer and, for Evil Dead fans, that's incredibly exciting.
UPDATE: Bleeding Cool followed up with Raimi about what exactly he meant by the above quote and here's what he said:
Those guys made me say that. I am thinking about it but a crowd goes "Come on Sam, do it!" so I said "Okay, I guess I was talking to my brother about it." But I feel like I was pushed into saying that, a little bit. In the hallway today I joked with Ivan [his brother] "Get working on that script!" but I really don't know.
I'm afraid that every time I talk about it people get really mad at me when I don't follow through with it. I would like to work on the script over the summer, that much is true. But the reason to come back and do it again is only that they're making me, those fans.
I was saying to Ivan "Why do they stay on this thing? Why do they keep at it?" and he said "They want to make a movie. You're a filmmaker and your fans are asking you to make the movie. What are you, an idiot? Make the movie!" I guess there's something I don't see. It makes sense when Ivan says it... but I didn't have a tremendous amount of passion until right now to bring to it.
I love working with Bruce Campbell and Rob Tapert, I have so much fun making those movies, so... but the fans are really forcing me into it.
That report also confirmed that Raimi does not have a project that he's going to make now that Oz is done so, it's possible, Evil Dead 4 could be that. But it doesn't seem like it's something he's as passionate about as the rest of us.