TV Bits: 'Boardwalk Empire', 'Dexter', 'Archer', 'The Walking Dead', 'American Horror Story', 'Whose Line Is It Anyway?', Lee Pace, Ricky Gervais, Louis CK, And More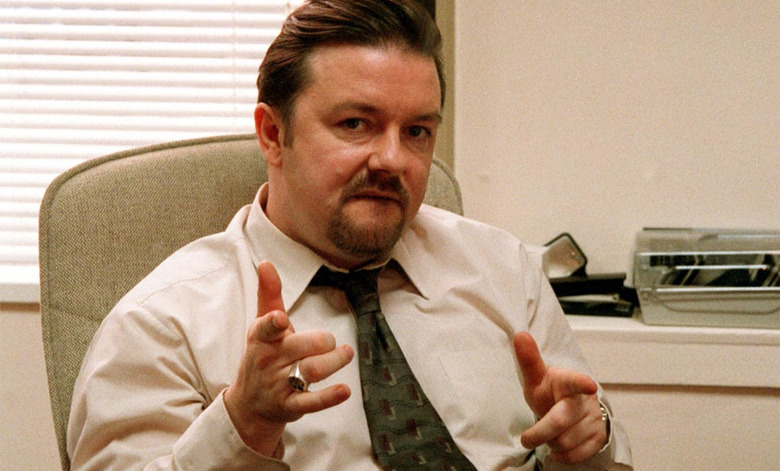 David Brent is coming back, as is Whose Line It Anyway? Also after the jump:
Lee Pace, Angela Kinsey, Michael Ealy and more book pilots
Entourage's Rhys Chorio will drop by Dexter next season
Ron Livingston and Brian Geraghty join Boardwalk Empire
FX's Archer and Syfy's Lost Girl get renewals
Goodwin Games, Louis CK's new special get premiere dates
The CW cancels 90210 and moves Cult to Fridays
AMC confirms Scott Gimple as the new Walking Dead showrunner
Dylan McDermott drops a hint about American Horror Story
Most PaleyFest 2013 panels will stream live online
Netflix announces the Flixies awards
Jamie Chung (Sucker Punch) and Sienna Guillory (Resident Evil) have joined NBC's J.J. Abrams / Alfonso Cuaron drama Believe
Scrubs creator Bill Lawrence will re-team with Dr. Cox (a.k.a. John C. McGinley) on TBS' workplace comedy Ground Floor
Lorne Michaels is reuniting with Saturday Night Live alum Martin Short for an untitled NBC comedy about a game show host
The Waitress from It's Always Sunny, Mary Elizabeth Ellis, has been cast as Will Arnett's sister in his CBS comedy pilot
The Office's Angela Kinsey will be Rob Riggle's wife on Fox's The Gabriels, from The League creator Justin Hurwitz
Michael Ealy is the robot half of an untitled robot-human buddy cop drama from J.J. Abrams, J.H. Wyman, and Fox
David Spade books ABC's Bad Management, in case CBS' Rules of Engagement gets cancelled; Rachael Harris will also star
Amanda Setton, formerly of The Mindy Project, will also be one of CBS' Crazy Ones with Robin Williams and Sarah Michelle Gellar
Patrick Fugit and Parminder Nagra will reckon with wrongful imprisonment and political uprising in ABC's Reckless
Pushing Daisies' Lee Pace is heading back to the small screen with Halt and Catch Fire, about the '80s personal computing boom
... while his former co-star Anna Friel will play Kyle Chandler's hard-partying little sis on Ridley Scott's The Vatican at Showtime
Sophia Bush and Rebecca De Mornay will lead NBC's Hatfields & McCoys, not to be confused with History Channel's Hatfields & McCoys
Anthony LaPaglia will join Felicity Huffman as the heads of a family of trained assassins on Fox's Boomerang
A decade after the end of the U.K. Office, David Brent is coming back. Ricky Gervais will reprise the character for a short "mini episode" called The Office Revisited for the British charity Comic Relief. Watch a teaser below, then click here for a longer trailer.
The special episode will air on BBC One as part of the Red Nose Day fundraiser on March 15. [EW]
Rhys Coiro will tangle with the Morgan sibs on the next season of Dexter. The Entourage actor has ben cast as a "tough bail jumper" that Deb (Jennifer Carpenter) is trying to track down, though early set photos suggest he may turn out to be a love interest as well. At any rate, he can't be a worse match for her than her killer brother, right? Dexter's eighth and possibly final season premieres June 30. [Screen Crush]Boardwalk Empire's already sprawling cast of characters has just gotten bigger by two. Ron Livingston has landed a series regular role as Roy Phillips, a rich businessman whom Gillian (Gretchen Mol) takes an interest in. And Brian Geraghty has booked a recurring part as Loren Knox, a prohibition agent with ulterior motives. [Deadline]Lost Girl won't wrap up Season 3 for another month and half, but Syfy is already eager for more. The network has renewed the supernatural drama for a 13-episode fourth season, to begin airing in 2014. [Deadline]
Also due for a return is FX's Archer, which will be back (probably next year) for a 13-episode fifth season. The animated comedy has been drawing bigger audiences with each successive season, so renewal was a no-brainer.
But before that, expect the fourth episode to go out in style. Jon Hamm will reportedly drop by the series as Captain Murphy, commander of an undersea laboratory that is most definitely not Sealab for legal reasons. The two-part finale airs next month. [AV Club]
In other scheduling news, HBO has set its fourth Louis CK stand-up special, Louis CK: Oh My God, to premiere on April 13 at 10:00 PM. It's not the fourth season of Louie, but it's better than nothing, right? [Deadline]
Fox has finally revealed a release date for The Goodwin Games, the new comedy by How I Met Your Mother executive producers Carter Bays, Craig Thomas and Chris Harris. As tweeted by Scott Foley, the series will air Monday, May 20 at 8:30 PM.
#TheGoodwinGames has an airdate! 5/20 at 8:30pm. Seven consecutive weeks on fox.

— scott foley (@scottkfoley) February 27, 2013
The first season will consist of just seven episodes, following Fox's decision to reduce their original 13-episode order back in November. [TV Line]
Meanwhile, the news coming from The CW isn't so positive. The network has cancelled 90210 after five seasons, with the series finale to air in May. And its new series Cult has been shifted to Fridays at 8:00 PM, after two low-rated outings on Tuesdays. [Buzz Sugar, Variety]
AMC has officially confirmed what we first got word of in January. Scott M. Gimple will be the new showrunner of The Walking Dead starting in Season 4, replacing Glen Mazzara. The show's current third season ends March 31. [Deadline]
Ryan Murphy's been pretty vague about the plot of American Horror Story's third season but it appears that star Dylan McDermott has just dropped a big hint. Speaking about Kathy Bates' recent casting, the actor enthused, "She really is [perfect for the show]. All the witches of Salem... there's plenty of them!"
The Salem witch trials of the 17th century don't quite fit with the "glamorous" feel Murphy has hinted at previously, so I doubt colonial New England will be the new setting. But McDermott's comments suggest they'll be worked into the show somehow. [E! via Screen Crush]
Whose Line Is It Anyway? is coming back from the dead. Colin Mochrie announced the improv comedy series' revival via Twitter:
Oh, by the way, Whose Line is coming back. More details later.

— Colin Mochrie (@colinmochrie) March 1, 2013
In a separate interview, Ryan Stiles confirmed that he would also return. Host Drew Carey, however, will not — he'll be replaced in the new incarnation by comedian Aisha Tyler, who among other things voices Lana in Archer. [Coming Soon]
Not every TV fan is lucky enough to attend PaleyFest, but this year those stuck at home can still join in on some of the fun. The Paley Center for Media will stream the majority of it panels live online, including presentations for Community, Parenthood, The Newsroom, Arrow, New Girl, American Horror Story, and more. The festival runs from March 1-15. [Zap2It]
Bummed about the end of awards season? Netflix is getting in on the game with its Flixies, which "honor the ways you really watch Netflix." That means instead of categories like Best Picture and Best Actress, we have Best Tantrum Tamer, Best Hangover Cure, Best Guilty Pleasure, and more.
Head to TheFlixies.com between now and March 10 to scope out the nominees and cast your vote. [via Screen Crush]