'Jay And Silent Bob's Super Groovy Cartoon Movie' Trailer: A Movie By Kevin Smith Fans, For Kevin Smith Fans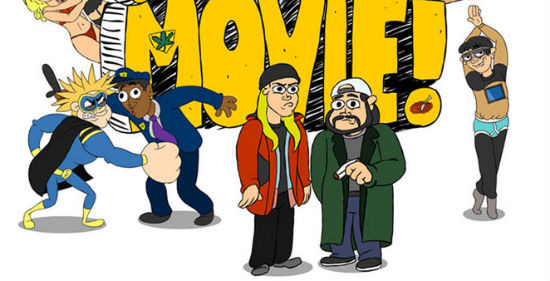 Filled with references to Jay and Silent Bob Strikes Back, Clerks, Batman movies and much more, the trailer for Jay and Silent Bob's Super Groovy Cartoon Movie is here. It's the hard R-rated (if it was rated) animated return of everyone's favorite New Jersey slackers, which will tour the country Red State-style along with Kevin Smith and Jason Mewes. They provided voices and produced the flick, which is directed by Steve Stark. Starting in April, the film will be playing at concert venues across North America complete with a live podcast.
So how does the movie look? Crude, for sure, but aimed squarely at the people it's meant to please: Kevin Smith fans. We're talking potty humor, pop culture references and even more potty humor. See the trailer below.
Thanks to SeeSmod for the trailer.
For tickets and all the dates of the tour, visit this link.
As for the trailer itself, I have to admit, I wasn't exactly a fan. I'm a long time Kevin Smith fan, but this movie looks like it takes his humor and strips it of all originality and wit. Smith's best movies are never wacky like this. They have substance too. Granted, you can't expect Chasing Amy from a movie called Jay and Silent Bob's Super Groovy Cartoon Movie, but Smith's work is best when the humor is simultaneously offensive and smart. There's some edge. There are basic dick jokes too but those aren't the heart of the film.
Take Good Will Hunting 2: Hunting Season for example. That's one of my favorite Smith bits because it was unexpected, clever, and worked on a couple levels. Commentary on Hollywood, stars acknowledging their success, but it also had Oscar-winners Ben Affleck and Matt Damon shooting a guy with a shotgun. Jay and Silent Bob's Super Groovy Cartoon Movie looks like it works on one level only: the bottom. Hopefully that's not the case. Even if it is though, Smith's fans are sure to eat it up.
What did you think of the trailer? Will you be heading out and catching the flick on tour or waiting for home release?