Halle Berry Pretty Sure She'll Return For 'X-Men: Days Of Future Past'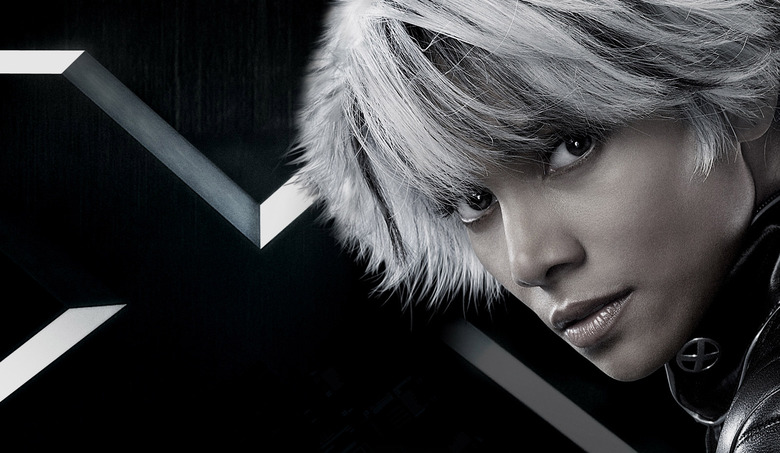 Bryan Singer's X-Men: Days of Future Past only has one new star right now, but in the meantime his roster of returning actors just keeps growing. A few weeks ago, the filmmaker said he wasn't sure whether or not Halle Berry would re-join her old teammates. According to Berry herself, though, the deal is all but signed. Hit the jump to keep reading.
Well, she did confirm to me that she would be returning in the role. Most likely. Practically 90% sure. And she nodded a lot too.
I can't say, and neither could she say that it's definitely a done deal, and that the contracts have all been signed, with all the "i"s dotted and the "t"s crossed.
She told me that are a few details that are still being negotiated which she couldn't get into. But since she did tell me that the film starts shooting in April, it's highly unlikely that talks are going to suddenly and horribly fall apart at this point, and the producers have to scramble to find a replacement at the very last minute.
Singer has previously said that he didn't know whether Storm would appear in the movie. "It's not necessarily a deal making aspect at all," he said at the time. "I want to make sure it'll make sense. But I love working with her." If Berry can be believed, it sounds like screenwriter Simon Kinberg has since figured out a way to work the character into the movie. Hopefully this means Alan Cumming's Nightcrawler is next.
So far, Patrick Stewart, Ian McKellan, Hugh Jackman,Anna Paquin, Ellen Page, and Shawn Ashmore are all set to reprise their roles from the original, while James McAvoy, Michael Fassbender, Jennifer Lawrence, and Nicholas Hoult will return from X-Men: First Class. Peter Dinklage is the sole fresh face on board right now.
X-Men: Days of Future Past opens July 18, 2014.