Steve Carell Announces Start Of Shooting On 'Anchorman: The Legend Continues', Dylan Baker And Meagan Good Join Cast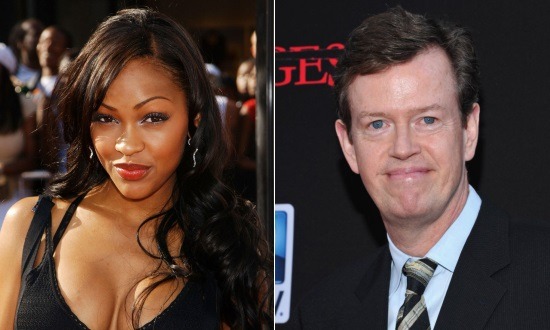 As Anchorman: The Legend Continues enters production in Atlanta, it's been adding new cast members left and right. The newest arrivals today are Meagan Good and Dylan Baker, who join franchise newcomers Kristin Wiig and James Marsden. John C. Reilly is also rumored for a cameo, though the production is staying mum on that one.
But while the new characters might get to do new and exciting things, returning star Steve Carell says his hope for Brick is that nothing will have changed. "He will not evolve," he told Jay Leno last night. Hit the jump to keep reading.
Deadline, which got the scoop on Good and Baker's casting, reports that Good will play the new boss to Ron Burgundy (Will Ferrell). Considering how well he took to having a female co-anchor in the last film, a female superior is bound to go over real smoothly. The site did not have any information on whom Baker would play.
Good was seen last year in Think Like a Man, and currently stars in NBC's Deception. Baker has appeared in a string of TV guest roles lately, including on USA's Political Animals, CBS' The Good Wife, and NBC's Smash. On the cinematic front, he's best known for playing Dr. Curt Connors in Sam Raimi's Spider-Man trilogy.
As for speculation that Step Brothers co-stars Reilly and Ferell could reunite for this film, a rep for the production would neither confirm nor deny. They did, however, offer an alternate explanation for that Reilly stand-in casting call: "We were looking for a stand-in for lighting purposes who looks like John C. Reilly. We always demand that every stand-in looks like John C. Reilly."
Anchorman: The Legend Continues hits December 20. Christina Applegate, Paul Rudd, and David Koechner also star.