'Oblivion' Trailer And Posters: Tom Cruise Has A New Home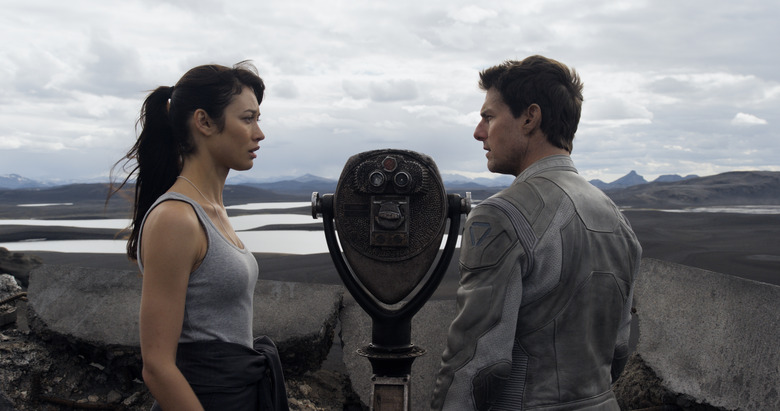 Some are born great, some achieve greatness, and some have greatness thrust upon them in the form of a beautiful mysterious woman in a downed spacecraft. In Joseph Kosinski's Oblivion, Tom Cruise and Andrea Riseborough play two members of a lonely crew mopping up what's left of Earth decades after a devastating alien attack.
They're nearing the end of their assignment when Julia (Olga Kurylenko) falls out of the sky, leading Jack (Cruise) to realize that not all is as it seems. And, naturally, that the fate of humanity rests in his hands. Watch the trailer after the jump.
This may very well be the best trailer yet. Oblivion still kind of looks like a typical Tom Cruise action flick by way of The Matrix and Wall-E, but that's not a bad place to start. The new promo has a lot of momentum and some truly gorgeous shots, like the ones of Jack on his motorbike zipping around a completely abandoned Earth.
And speaking of Kosinski's eye for beauty, we also have two new posters and some high-res images to better show off the film's stunning visuals.
Also starring Melissa Leo and Nikolaj Coster-Waldau, Oblivion opens April 12.
Tom Cruise stars in Oblivion, an original and groundbreaking cinematic event from the director of TRON: Legacy and the producer of Rise of the Planet of the Apes. On a spectacular future Earth that has evolved beyond recognition, one man's confrontation with the past will lead him on a journey of redemption and discovery as he battles to save mankind.
Jack Harper (Cruise) is one of the last few drone repairmen stationed on Earth. Part of a massive operation to extract vital resources after decades of war with a terrifying threat known as the Scavs, Jack's mission is nearly complete.
Living in and patrolling the breathtaking skies from thousands of feet above, his soaring existence is brought crashing down when he rescues a beautiful stranger from a downed spacecraft. Her arrival triggers a chain of events that forces him to question everything he knows and puts the fate of humanity in his hands.