Tom Shadyac In Talks To Direct 'The Intouchables' Remake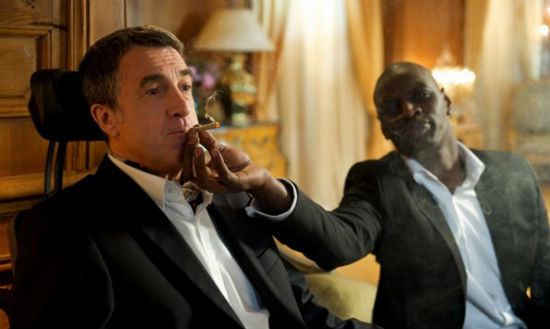 The morning of the Oscars nominations, one of the biggest snubs – in my opinion – was France's The Intouchables not getting a nod for Best Foreign Film. Written and directed Eric Toledano & Olivier Nakache, it's a hilarious and heartfelt true story about a quadriplegic and his unorthodox caretaker (François Cluzet and Omar Sy, above). In the United States, the film was distributed by The Weinstein Company, grossing an impressive $10 million. Add that to the $416 million (yes you read that right) it made internationally and the film seemed like a lock for a nomination.
Nope. Snubbed. It happens. Which actually was a blessing in disguise for the Weinstein Company, which has long since planned on remaking the film. With an Oscar nomination, more Americans would have been turned onto the original. Now it remains relatively obscure, leaving the door open slightly more wide for the remake.
Paul Feig was originally attached to write and direct, but has since moved on. His script remains though, along with a possible attachment from Oscar-winner Colin Firth as the quadriplegic. (Chris Tucker was rumored for the caretaker.) Now, the latest update is Tom Shadyac, the director of Ace Ventura: Pet Detective, The Nutty Professor and Liar, Liar is in talks to make the movie. It would be the director's first feature film since 2007's Evan Almighty. After that he had a near-death experience and stepped back from his Hollywood life, directing an autobiographical documentary called I Am. Deadline broke the news of Shadyac's interest in the project which, apparently, has been ongoing. It was just a matter of finding the right pay scale for a director who was on another level in the past and is coming back to a genre he dominated for a few years.
Shadyac's personal experience, getting injured in an accident and rejecting his huge Hollywood lifestyle, is very similar to the story of The Intouchables. Plus his ability to blend humor with heart has never been in question. I hope this works out because it would be a perfect marriage and great comeback story.
Have you seen The Intouchables? Do you think Shadyac works for a remake?