'Fast And Furious 6' Featurette: Vin Diesel And Michelle Rodriguez Talk Love And Loss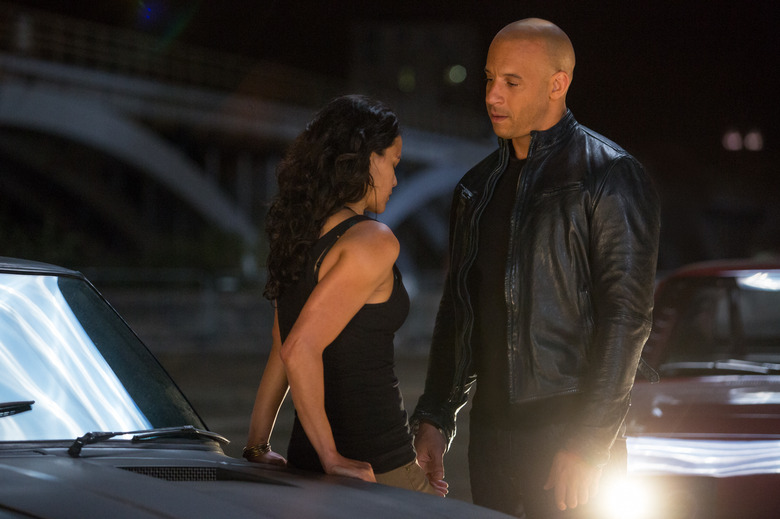 Fast cars, big muscles and scantily clothed women might be distinguishing aspects of the Fast and Furious movies, but they're not what makes them good. What makes (some of) the five previous films good are the human relationships. At its heart, the Fast and Furious films are about family and in the first featurette for Fast and Furious 6, that's prominently on display.
In the following video, co-stars Vin Diesel and Michelle Rodriguez discuss the relationship between their characters, the reveal that Rodriguez's character, Leddy, would be returning, and how that messes with Dom's state of mind. It's a very different look at the May 24th release from Justin Lin.
Thanks to Yahoo Movies (via First Showing) for the video.
How do you think Lin and company will explain Leddy's return? Did you feel it was a smart move?
Starring Vin Diesel, Paul Walker, Dwayne Johnson, Luke Evans, Michelle Rodriguez and more, Justin Lin's Fast and Furious 6 opens March 24. Here's the plot synopsis.
Since Dom (Diesel) and Brian's (Walker) Rio heist toppled a kingpin's empire and left their crew with $100 million, our heroes have scattered across the globe. But their inability to return home and living forever on the lam have left their lives incomplete.
Meanwhile, Hobbs (Johnson) has been tracking an organization of lethally skilled mercenary drivers across 12 countries, whose mastermind (Evans) is aided by a ruthless second-in-command revealed to be the love Dom thought was dead, Letty (Rodriguez). The only way to stop the criminal outfit is to outmatch them at street level, so Hobbs asks Dom to assemble his elite team in London. Payment? Full pardons for all of them so they can return home and make their families whole again.