Sequel Posters: 'Cloudy With A Chance Of Meatballs 2' And 'Monsters University'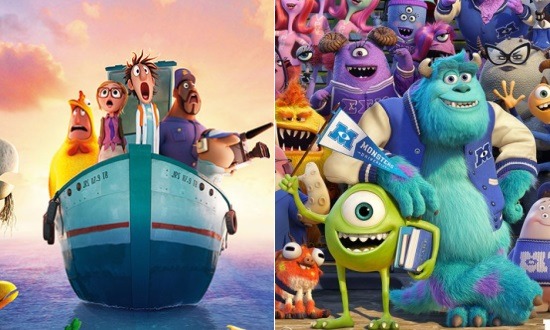 It's not always the case that "family films" actually appeal to the whole family, but two that do are Monsters, Inc. and Cloudy With a Chance of Meatballs. So even though we (as childless adults) may not be in their ideal target demo per se, we've very much looking forward to the sequels Monsters University and Cloudy With a Chance of Meatballs 2. Both are due out later this year, and both have just released new posters which you can check out after the jump.
It's hard to go wrong with bright colors and cuddly characters, but the Disney marketing team may need to pick up some new tricks. Cute as it is, this Monsters poster falls right into the tiresome trend of cramming as many characters as possible into a single sheet.
Much better is the Cloudy ad, which shows off a wide array of creatures without crowding them too much. Flint (Bill Hader) and his friends are at the center, surrounded by the adorable / horrifying food-imals. We've met several of these mutant critters before, but this is our first look at the cheesespiders and tacodiles that we've previously only heard about.
Monsters University hits theaters first, on June 21. Cloudy With a Chance of Meatballs 2 follows a few months later on September 27. Here's the synopsis for the former:
Mike Wazowski and James P. Sullivan are an inseparable pair, but that wasn't always the case. From the moment these two mismatched monsters met they couldn't stand each other. "Monsters University" unlocks the door to how Mike and Sulley overcame their differences and became the best of friends. Screaming with laughter and fun, "Monsters University" is directed by Dan Scanlon ("Cars," "Mater and the Ghostlight," "Tracy") and produced by Kori Rae ("Up," "The Incredibles," "Monsters, Inc.").
... And the latter:
In the wake of the disastrous food storm at the end of the first movie, Flint Lockwood and friends are forced to leave their town of Swallow Falls. But when it is discovered that sentient food beasts have overrun the island, they are asked to return to save the world...again.