Joel And Ethan Coen Will Rewrite World War II Biopic 'Unbroken' For Angelina Jolie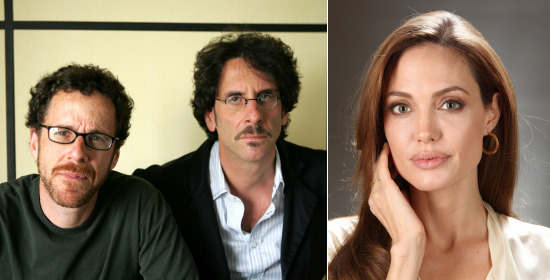 When Angelina Jolie signed on last year to replace Francis Lawrence at the helm of Unbroken, she became the latest in a long line of filmmakers who've tried to bring the Lou Zamperini tale to the big screen. And I mean long: Universal has been attempting to make a biopic of the Olympic track star turned World War II Air Force officer for over five decades now, to no avail.
But if Jolie has one advantage over those who came before her, it's that she's just brought on some very strong talent behind the scenes. Joel and Ethan Coen have just been tapped to rewrite the script, after a thorough search by Jolie and Universal. Hit the jump to keep reading.
Zamperini was a high school track star who made it to the 1936 Olympics in Berlin, but when World War II broke out he switched gears to join the U.S. Air Force. During one search mission crashed his plane over the Pacific. He survived on a raft for 47 days, but was captured by Japanese guards when he finally reached the shore and kept as their prisoner for the rest of the war. Now 96, Zamperini will contribute to the film in some capacity.
THR reports that Jolie spent weeks looking for top-level writers to work on the script before she chose the Coen brothers. The duo have earned plenty of acclaim for their writing work, winning screenplay Oscars for Fargo and No Country for Old Men. Their involvement isn't necessarily a guarantee of quality, as evidenced by the limp reviews for the Coen-scripted, Michael Hoffman-directed Gambit, but it's an exciting development for Jolie's film nonetheless.
The Coens are taking over for William Nicholson and Richard LaGravanese, both of whom turned in drafts before Jolie boarded. No timetable for the film has been announced, but as of last year the project was tentatively on track for a 2013 start.