Exclusive: Tyler Stout And Ken Taylor Team Up For Mondo Gallery Exhibit; Plus 'Game Of Thrones'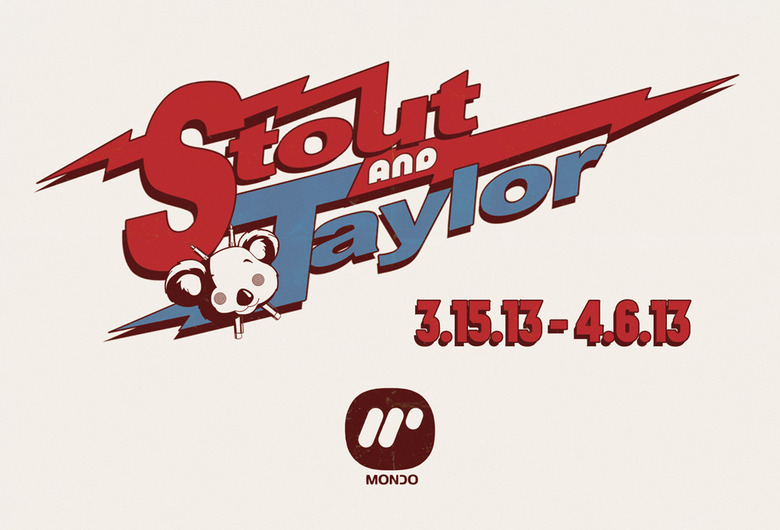 That sound you just heard was the world of pop culture art exploding. On March 15 at the Mondo Gallery in Austin, Texas, legendary poster artists Ken Taylor and Tyler Stout are teaming up for an exhibit of new work. It's Taylor's second U.S. show and Stout's first Mondo show, a major milestone as he's been blowing poster fans' minds since 2005. They're two of the most talented, popular, influential and highly collectible artists on the scene today. That's the good news.
The bad news is, we can't show you any art. It's a secret. All we know is it'll run from March 15-April 6 and include "new work" from both popular artists.
Either way, we've got the show card below as well as some of their best art from the past to give you an idea of what might be in store for fans. And also, read about the Game of Thrones exhibit that'll act as an appetizer to the Stout/Taylor show, both tied to South by Southwest 2013.
Stout and Taylor opens on March 15 from 7-10 p.m. and will be on display through April 6. The gallery is located at 4115 Guadalupe St. Austin, TX. Mondo is also hosting a Game of Thrones show before that, from March 8-12, as a kick off of a major poster series that we'll surely feature in the future.
Read more about that show here
.
Back to this show, here's your exclusive look at the show card.
So what could be in this show? If we go by past Mondo shows it'll likely have a unifying theme. You can also likely expect prints and maybe even some originals. We know Tyler Stout did a Drive poster so maybe that'll finally get released. I've also heard some unsubstantiated rumors of him tackling one of Mondo's biggest licenses. As for what Taylor could do, the fact that he has anything in the show at all insane. He's released
in the last few months: Breaking Bad, Jurassic Park, Halloween, Quentin Tarantino, Creature From the Black Lagoon and more. Maybe we'll even get some kind of collaborative piece.
Each of these artists have styles that are well-defined and gorgeous. Stout is a kitchen sink guy. He loves making movie posters that include almost everything you can imagine from the film in one striking, memorable image. It's the kind of art you could look at every single day and always find something new. He gets away from that style when doing rock posters but has earned a loyal fan base with his beautiful work. A loyal fan base that is sure to freak out at the opportunity to see brand new work exhibited at the gallery. Below are three of my favorite pieces,
to see everything he's done for Mondo.
Taylor has a more realistic style than Stout and is known for being extremely unpredictable. One image could be a montage with tons of different images, the next could be one single subject, drawn in exquisit detail. He had
last year and while he's been working for Mondo for years, this will be his first full show at the gallery. Here are some of my favorite Taylor works,
for all his Mondo posters.
On a personal note, it was Stout's work that originally drew me into the world of movie posters and I couldn't be more excited for the show. I booked a plane ticket and everything. I wouldn't miss it for the world.
For more information on the show, follow
on Twitter and we'll see you March 15.