The 85th Annual Academy Awards [Live-Blog]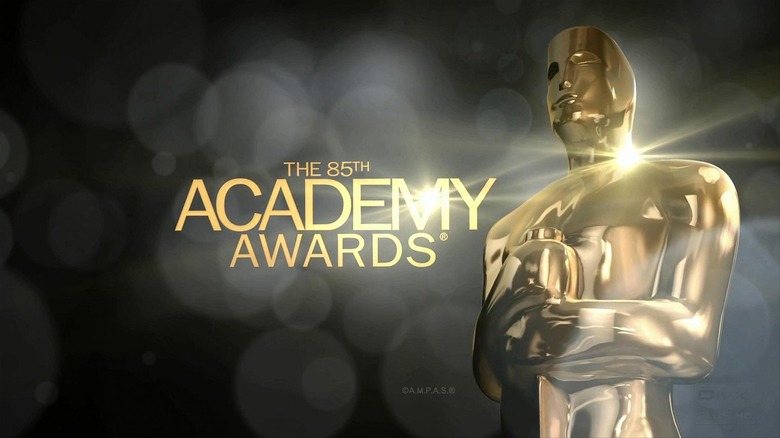 Two months of nonstop awards ceremonies have led up to this. The 85th Annual Academy Awards are being held tonight at the Dolby Theatre in Los Angeles, hosted by Seth MacFarlane, of all people, and we'll be live-blogging the proceedings right here all night.
This season, Argo has emerged as the heavy favorite to win Best Picture (despite the lack of a corresponding Best Director nod), as has Anne Hathaway for Best Actress. But the picture isn't as clear for some of the other categories, and in any case there are no guarantees until the victor is clutching that little gold man up on that stage. Here's hoping for some pleasant surprises.
Hit the jump to read the winners as they're announced, along with live commentary.
8:38 – We are averaging one musical number per five minutes.
8:42 – Samuel L. Jackson : Oscars :: Tommy Lee Jones : Golden Globes
8:45 – Devindra: "At least it's better than Seth MacFarlane talking."
8:50 – Finally, an award!
BEST SUPPORTING ACTOR
Christoph Waltz, Django Unchained
Philip Seymour Hoffman, The Master
Robert de Niro, Silver Linings Playbook
Alan Arkin, Argo
Tommy Lee Jones, Lincoln
Thoughts: This wasn't a category where anyone seemed like a lock, but I'm a little surprised nonetheless. And still a little annoyed that this should have counted as a lead role, though of course I'm still happy for Waltz.
8:56 – I never thought I'd see the day where I'd find Paul Rudd less funny than Seth MacFarlane.
BEST ANIMATED SHORT FILM
Adam and Dog, Minkyu Lee
Fresh Guacamole, PES
Head over Heels, Timothy Reckart and Fodhla Cronin O'Reilly
Maggie Simpson in "The Longest Daycare", David Silverman
Paperman, John Kahrs
Thoughts: No surprise there, but it's a delightful short and I'm happy to see it rewarded.
BEST ANIMATED FEATURE
Frankenweenie
Pirates: Band of Misfits
Wreck-It-Ralph
Paranorman
Brave
Thoughts: Plenty of people are gonna be pissed about this one. At least Brenda Chapman got to go up — for a second there, it looked like it was just going to be Mark Andrews.
9:05 – That's not all of the Avengers! Where's Scarlett Johansson? Where's Chris Hemsworth?
BEST CINEMATOGRAPHY
Seamus McGarvey, Anna Karenina
Robert Richardson, Django Unchained
Claudio Miranda, Life of Pi
Janusz Kaminski, Lincoln
Roger Deakins, Skyfall
Thoughts: Bummed for those who lost, especially Deakins, but can't argue too much. Life of Pi looks gorgeous, even on my TV at home. Also, that is a glorious mane of hair.
BEST VISUAL EFFECTS
The Hobbit: An Unexpected Journey, Joe Letteri, Eric Saindon, David Clayton and R. Christopher White
Life of Pi, Bill Westenhofer, Guillaume Rocheron, Erik-Jan De Boer and Donald R. Elliott
Marvel's The Avengers, Janek Sirrs, Jeff White, Guy Williams and Dan Sudick
Prometheus, Richard Stammers, Trevor Wood, Charley Henley and Martin Hill
Snow White and the Huntsman, Cedric Nicolas-Troyan, Philip Brennan, Neil Corbould and Michael Dawson
Thoughts: Must be a bittersweet moment for Rhythm & Hues.
9:12 – Oh, come on. Silencing him at that moment? Not cool.
9:13 – Russ: "OK, the Jaws music used as the 'hurry up' song is great."
BEST COSTUME DESIGN
Jacqueline Durran, Anna Karenina
Paco Delgado, Les Misérables
Joanna Johnston, Lincoln
Eiko Ishioka, Mirror Mirror
Colleen Atwood, Snow White and the Huntsman
Thoughts: Nice to see Anna Karenina get a little love.
BEST MAKEUP AND HAIRSTYLING
Howard Berger, Peter Montagna and Martin Samuel, Hitchcock
Peter Swords King, Rick Findlater and Tami Lane, The Hobbit: An Unexpected Journey
Lisa Westcott and Julie Dartnell, Les Misérables
Russ' thoughts: "Winner for making Anne Hathaway 'ugly.'"
9:24 – Russ: "Really nice editing and compositions on this Bond montage — good job capturing the visual identity of the series."
9:25 – Russ: "And that's a killer introduction for Shirley Bassey to sing 'Goldfinger.'"
9:26 – And she's killing it. Love it. This is what I want out of an Oscars celebrating music, not Seth MacFarlane singing about boobs.
BEST LIVE-ACTION SHORT FILM
Asad, Bryan Buckley and Mino Jarjoura
Buzkashi Boys, Sam French and Ariel Nasr
Curfew, Shawn Christensen
Death of a Shadow (Dood van een Schaduw), Tom Van Avermaet and Ellen De Waele
Henry, Yan England
BEST DOCUMENTARY SHORT
Inocente, Sean Fine and Andrea Nix Fine
Kings Point, Sari Gilman and Jedd Wider
Mondays at Racine, Cynthia Wade and Robin Honan
Open Heart, Kief Davidson and Cori Shepherd Stern
Redemption, Jon Alpert and Matthew O'Neill
9:37 – Is Seth MacFarlane not as bad as we expected, or is it just that the bar I've set for him is so impossibly low?
9:42 – Okay, strike that last comment. On the bright side, consensus among the viewing party at my house is that Affleck and Damon should host next year.
BEST DOCUMENTARY FEATURE
5 Broken Cameras
The Gatekeepers
How to Survive a Plague
The Invisible War
Searching for Sugar Man
Thoughts: Searching for Sugar Man has won every documentary award in the run-up, so we knew this was coming. Good news nonetheless.
BEST FOREIGN FILM
Amour (Austria)
No (Chile)
War Witch (Canada)
A Royal Affair (Denmark)
Kon Tiki (Norway)
Thoughts: It's probably not going to win Best Picture, so I'm very pleased to see it get recognition here.
9:59 – Kristy: "This is a diva-off! This is insane!"
10:03 – C'mon guys, it's not that bad. You could barely hear Russell Crowe at all.
10:05 – Russ: "I half-expected the sound mixer to drop everyone's mic there, except for Russell Crowe. Just leave him stranded belting out his bit."
BEST SOUND MIXING
Argo, John Reitz, Gregg Rudloff and Jose Antonio Garcia
Les Misérables, Andy Nelson, Mark Paterson and Simon Hayes
Life of Pi, Ron Bartlett, D.M. Hemphill and Drew Kunin
Lincoln, Andy Nelson, Gary Rydstrom and Ronald Judkins
Skyfall, Scott Millan, Greg P. Russell and Stuart Wilson
10:13 – Can't say I'm especially excited to see Ted, but I'm legitimately impressed by the effects.
BEST SOUND EDITING
Argo, Erik Aadahl and Ethan Van der Ryn
Django Unchained, Wylie Stateman
Life of Pi, Eugene Gearty and Philip Stockton
Skyfall, Per Hallberg and Karen Baker Landers
Zero Dark Thirty, Paul N.J. Ottosson
Thoughts: I kept waiting for Mark Wahlberg to reveal that the second winner was a joke and the award was going to Ted. But, whoa! When's the last time this happened? Both winners are excellent choices.
10:17 – Russ: "This tie thing is weird."
10:17 – According to Rudie, the last tie was in 1995 for best live-action short.
10:19 – I feel like such a dork, but I laughed so hard at that Sound of Music reference. That might be my favorite thing that has happened so far tonight.
BEST SUPPORTING ACTRESS
Sally Field, Lincoln
Anne Hathaway, Les Misérables
Jacki Weaver, Silver Linings Playbook
Helen Hunt, The Sessions
Amy Adams, The Master
Thoughts: I mean. Of course. Good for her, though.
10:21 – I'm not alone! Russ: "Even as it was a pretty Family Guy moment, that Sound of Music gag was definitely a highlight so far."
BEST FILM EDITING
William Goldenberg, Argo
Tim Squyres, Life of Pi
Michael Kahn, Lincoln
Jay Cassidy and Crispin Struthers, Silver Linings Playbook
Dylan Tichenor and William Goldenberg, Zero Dark Thirty
Thoughts: First win of the night for Argo. Was pulling for Zero Dark Thirty, personally, but Argo is a great pick too.
10:41 – Russ: "Adele seemed restrained, and her voice was often half-buried by the orchestra. A good performance, but Shirley Bassey is still tops."
BEST PRODUCTION DESIGN
Anna Karenina, Sarah Greenwood (Production Design) nad Katie Spencer (Set Decoration)
The Hobbit: An Unexpected Journey, Dan Hennah (Production Design) and Ra Vincent and Simon Bright (Set Decoration)
Les Misérables, Eve Stewart (Production Design); Anna Lynch-Robinson (Set Decoration)
Life of Pi, David Gropman (Production Design); Anna Pinnock (Set Decoration)
Lincoln, Rick Carter (Production Design); Jim Erickson (Set Decoration)
Thoughts: Again: Few surprises so far, but few really objectionable results either.
10:51 – Russ: "I'm not sure what that... er... was that Bardem/Hayek/Cruz line supposed to be a joke?"
THE GOVERNORS AWARDS
Hal Needham
D.A. Pennebaker
George Stevens, Jr.
THE JEAN HERSHOLT HUMANITARIAN AWARD
Jeffrey Katzenberg
11:03 – No Andy Griffith in the In Memoriam?
11:08 – I like Chicago as much as the next gal, but what is this show's obsession with that movie?
BEST ORIGINAL SCORE
Dario Marianelli, Anna Karenina
Alexandre Desplat, Argo
Mychael Danna, Life of Pi
John Williams, Lincoln
Thomas Newman, Skyfall
Thoughts: Bummed Thomas Newman still has no Oscar, but I can't be too upset about Life of Pi winning.
BEST ORIGINAL SONG
"Before My Time," Chasing Ice
"Pi's Lullaby," Life of Pi
"Suddenly," Les Misérables
"Everybody Needs a Best Friend," Ted
"Skyfall," Skyfall
Thoughts: I adore this song. An instantly classic Bond theme. And hey, this means Skyfall has more Oscars than Silver Linings Playbook or Argo so far!
BEST ADAPTED SCREENPLAY
Argo, written by Chris Terrio
Beasts of the Southern Wild, screenplay by Lucy Alibar & Benh Zeitlin
Life of Pi, written by David Magee
Lincoln, written by Tony Kushner
Silver Linings Playbook, written by David O. Russell
Thoughts: Exactly the result we expected.
BEST ORIGINAL SCREENPLAY
Amour, written by Michael Haneke
Django Unchained, written by Quentin Tarantino
Flight, written by John Gatins
Moonrise Kingdom, written by Wes Anderson & Roman Coppola
Zero Dark Thirty, written by Mark Boal
Thoughts: Nice! Not Tarantino's best screenplay ever, but happy to see him get his first win since 1995... and really happy to see something unexpected happen. (Would've picked Zero Dark Thirty, myself, though.)
BEST DIRECTOR
David O. Russell, Silver Linings Playbook
Ang Lee, Life of Pi
Steven Spielberg, Lincoln
Michael Haneke, Amour
Benh Zeitlin, Beasts of the Southern Wild
Thoughts: This was a weird category where Ben Affleck would've been the clear favorite if he'd been nominated. I thought Spielberg had the strongest chance of those who were, but I'm pleasantly surprised to see Lee get it. Life of Pi was some impressive work.
11:38 – Just think how much closer we would be to being finished if we could have cut out that "Boobs" number. And all the other numbers sung by MacFarlane.
BEST ACTRESS
Naomi Watts, The Impossible
Jessica Chastain, Zero Dark Thirty
Jennifer Lawrence, Silver Linings Playbook
Emmanuelle Riva, Amour
Quvenzhané Wallis, Beasts of the Southern Wild
Thoughts: Jennifer Lawrence is a delight. And very deserving. A little sorry that Emmanuelle Riva doesn't get to have the Oscar as her 86th birthday present though.
BEST ACTOR
Daniel Day-Lewis, Lincoln
Denzel Washington, Flight
Hugh Jackman, Les Misérables
Bradley Cooper, Silver Linings Playbook
Joaquin Phoenix, The Master
Thoughts: Expectedly, Daniel Day-Lewis wins the Oscar. Unexpectedly, Daniel Day-Lewis has the funniest speech of the night. I love it!
11:52 – This ceremony is running way too long, but at least the spillover part of it has been entertaining. (Michelle Obama!) Can't say the same for the other three hours.
BEST PICTURE
Beasts of the Southern Wild
Silver Linings Playbook
Zero Dark Thirty
Lincoln
Les Misérables 
Life of Pi
Amour
Django Unchained
Argo
Thought: And here we are. Everyone was proved right.
12:02 – Seems an odd choice to close by dwelling on the people who lost, but whatever —  goodbye, Seth MacFarlane! Goodnight, everyone!