'The Twilight Saga: Breaking Dawn Part II' Wins Big At The Razzies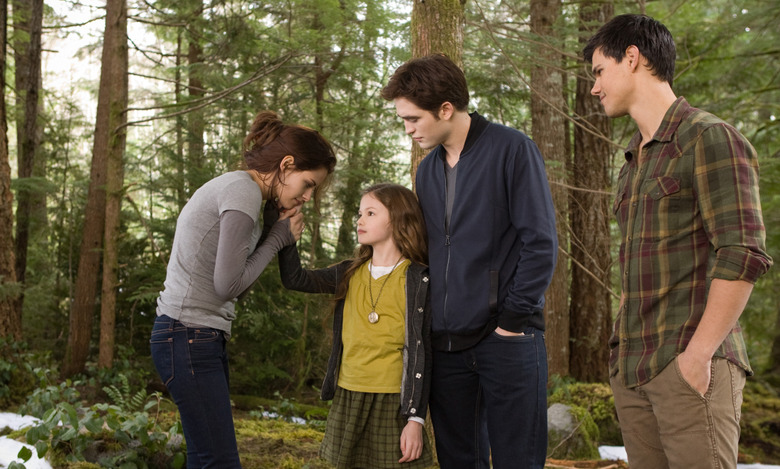 We'll be hearing arguments over which film really deserved the Best Picture Oscar for months, if not years, to come, but if the Razzie results are any indication there's a firm consensus on which movie was the worst of 2012.
The Twilight Saga: Breaking Dawn Part II swept this year's proceedings, as seven out of their record-tying eleven nominations turned into wins. Keep in mind that that's eleven nominations out of ten categories — that's how bad Razzie voters thought this thing was. That's My Boy and Battleship got a little love (hate?) as well. Hit the jump to read the winners.
But hey, it's not like anyone expects the Razzies to be especially edgy or insightful, right? At least it gets to be the one award Argo can't win.
And now, without further ado, your winners:
Worst Picture:
The Twilight Saga: Breaking Dawn Part II
Worst Actor:
Adam Sandler, That's My Boy
Worst Actress:
Kristen Stewart, Snow White and the Huntsman and The Twilight Saga: Breaking Dawn Part II
Worst Supporting Actor:
Taylor Lautner, The Twilight Saga: Breaking Dawn Part II
Worst Supporting Actress:
Rihanna, Battleship
Worst Screen Ensemble:
The Twilight Saga: Breaking Dawn Part II
Worst Director:
Bill Condon, The Twilight Saga: Breaking Dawn Part II
Worst Remake, Rip-Off or Sequel:
The Twilight Saga: Breaking Dawn Part II
Worst Screen Couple:
Mackenzie Foy and Taylor Lautner, The Twilight Saga: Breaking Dawn Part II
Worst Screenplay:
That's My Boy