'Jack Reacher' Crosses $200 Million Worldwide, Paramount Working On Sequel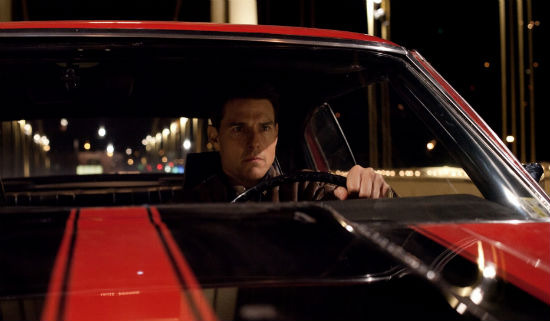 In January, the rumor coming from Paramount was that the Tom Cruise action film Jack Reacher, which at the time had grossed about $73 million domestic and was about to open in Asia, had to gross $250 million worldwide to generate interest in a sequel. It seems that number may have dropped when executives looked at A) a bookshelf full of potential pre-written sequels by author Lee Child and B) solid international box office receipts.
Jack Reacher, directed by Christopher McQuarrie, just crossed $200 million worldwide. While that's not $250 million, it seems Paramount has begun to move forward with a possible sequel.
Deadline (via Collider) made mention of this in an article about Reacher being Tom Cruise's 19th $200 million movie. Nineteen. That's insane. That number has the studio "already figuring out the sequel."
But what would the sequel be? This first film was originally called One Shot, based on the 2005 book. However, in the Lee Child Reacher world, that's in the middle of the story, number 9 out of 17.
Running Blind: US title/The Visitor: UK title (2000)
The Enemy (2004) (Prequel set eight years before Killing Floor)
Bad Luck and Trouble (2007)
Worth Dying For (Fall 2010)
The Affair (2011) (This is another prequel set just before Killing Floor.)
You'd imagine the story would continue from there with The Hard Way. But, then again, maybe a better story was written before One Shot that could easily be moved later in the timeline. Continuity is not likely a concern. What is a concern are 16 more movies that don't happen if you stop making Jack Reacher movies. The potential is just too great to not make a sequel to a $200 million hit.
Then there's Mission: Impossible 5, the film Cruise and McQuarrie will likely make before another Reacher movie, simply because it's a guaranteed hit. There's no timeline on that at the moment so one would think, even if a Reacher sequel is in the works, we wouldn't see it for several years.
From Russ: Some of those novels have significantly less chance of being movie fodder. The Enemy and The Affair are prequels dating back to Reacher's days in the military, so they're probably not going to power sequels. A couple of the novels, Without Fail and Bad Luck and Trouble feature semi-regular Reacher sidekick Francis Neagley, and could be good basis for adding another regular character to the new series. (Neagley also features in The Affair.) And some of these books were once optioned by other producers, and we don't know exactly which ones are available at this point. If I had to choose, I might go for the First Blood-like Die Trying, or Persuader, which features a good cast of characters for a film.
Did you like Jack Reacher? Do you want to see a sequel?