Sequel Bits: 'The Hangover Part III', 'Cloudy 2', 'Fast & Furious 6', 'Star Trek Into Darkness', 'Transformers 4', 'The Host', 'Mama 2', 'Riddick', 'The Best Man 2'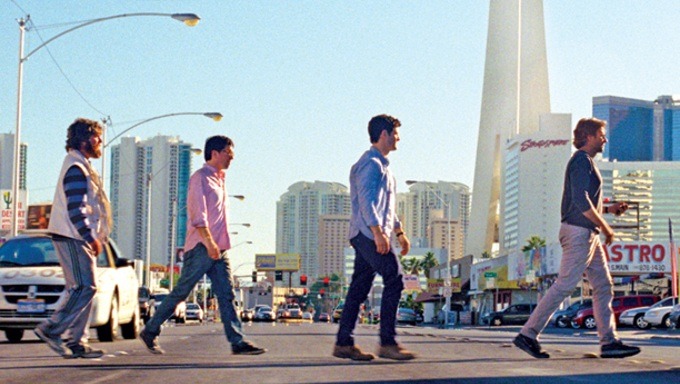 The Hangover Part III may feature a whole new plotline, but based on these new stills the wolf pack still looks exactly the same. Also after the jump:
Dwayne Johnson is pumped for Fast & Furious 6
The latest Star Trek comic drops still more hints
The Allspark might resurface in Transformers 4
Stephenie Meyer wants The Host to be a trilogy
Producer says there have been no Mama 2 talks
The Best Man sequel has a real title now
The first Cloudy 2 trailer will debut this week
Riddick takes the throne in a new photo
Dwayne Johnson is a very recent addition to the Fast and the Furious franchise, having appeared for the first time in Fast Five, but he already feels like an indispensible part of the series. And, based on a recent interview, he's just as excited about the Fast & Furious 6 as anyone could be.
Fast Six, we raise the bar. Fast Five was pretty damn good, Fast Six we raise the bar. Fast Five, my character, Vin's character, we locked horns. In Fast Six, we ride or die. We kick ass, and we raise the bar.
Johnson also added that his other sequel, G.I. Joe: Retaliation, was "badass," and poked a bit of fun at his own propensity to do sequels. "Then we have Brokeback Mountain 2," he joked. [Collider]
The cast and crew of Star Trek Into Darkness have kept their lips firmly sealed about the new plotline. The prequel comics, on the other hand, have been dropping hints left and right. The second (of four) issue of IDW's Countdown to Darkness series has just hit stands, and contained within are a few interesting reveals about the Enterprise, Robert April, and more. Head over to SuperHeroHype for the nitty gritty, but be warned that there are comic book spoilers ahead.
Transformers 4 features a whole new set of robots and humans, but one carryover we might see is the Allspark. NPR took a visit to the Paramount archive, where set decorator Rosemary Brandenburg indicated that the cube-shaped artifact could appear in the next movie.
However, it's too soon to say for certain, and even if it pops up it'll likely just be in the background. Which means she'll have to make a new copy or several, just in case it gets blown up. This is a Michael Bay movie, after all. Transformers 4 is dated for June 27, 2014. [via TFW2005]
Twilight author Stephenie Meyer could have a whole new franchise on her hands with The Host — that is, if only she can find some time to hunker down in front of her computer. "Yes, I'm working on the sequel to The Host," she said. But, she adds, "I have no idea when it will be done... I would love to get that knocked out this summer, but that's extremely unlikely."
In a separate interview, she added that she thinks it'll become "a three-book arc, but we'll see." Andrew Niccol's film is a standalone for now, but if Meyer gets around to those other books, you can bet Open Road will be eager to turn them into more Host movies. [Cinema Blend]
Earlier this week, Universal exec David Kosse revealed that conversations about a Mama sequel were "in the early stages." Apparently, however, those talks didn't involve the original film's producer and co-writer Barbara Muschietti. She explained:
We were as surprised as you. There has not been any talk at all about it. I read the initial article... I think the journalist asked if that was a possibility and David Kosse didn't shut it down but he didn't go into it.
Her brother, co-writer and director Andres Muschietti, has said in the past that he doesn't see a franchise potential in Mama. But what they'll do next remains up in the air. "There's nothing going on right now," Barbara Muschietti said, "but we are actively trying to find our new project." [Bleeding Cool]
Malcolm D. Lee's The Best Man sequel finally has a title: The Best Man Holiday. All those months spent mulling it over, and that was the best they could come up with? Hopefully the film will be better than its name when it opens November 15. [Deadline]Cloudy With a Chance of Meatballs 2 has already revealed a fresh batch of pics showing off their new "foodimals," but we'll get a much more comprehensive look in a few more days. As revealed by this image, a new trailer is coming next week.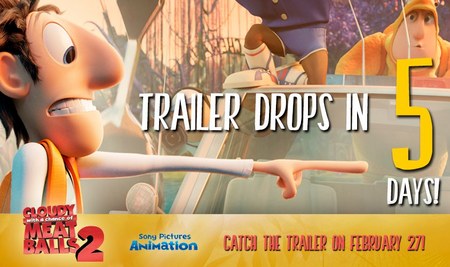 No clue yet what what Flint (Bill Hader) is pointing at, but it looks like he's found himself in trouble again. Cloudy With a Chance of Meatballs 2 opens September 27. [MovieWeb]
Who knew Vin Diesel was a contender for the Iron Throne? Okay, technically he's not — but looks like one in the latest Riddick still.
For his sake, let's just hope this chair is a bit more comfortable. Riddick is due out September 6. [Facebook via Screen Crush]
Supposedly, The Hangover Part III deviates somewhat from the formula of the first two films. One thing that apparently hasn't changed, though, is the wolf pack's sweaty, bleary-eyed look.
The Hangover Part III lands May 24. [The Playlist]