DreamWorks Prepping Its Own A Cappella Movie About Indiana University Group Straight No Chaser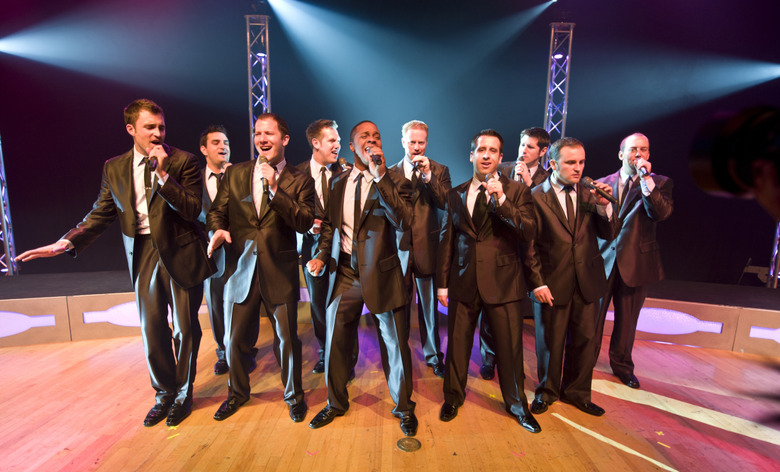 Singing groups have long been popular on school campuses, but it wasn't until Glee came along that they started blowing up the screen. Universal's similarly themed movie Pitch Perfect proved a big hit last year, and now DreamWorks is following suit with an a cappella feature of its own.
Like Pitch Perfect, which was very loosely based on a book, DreamWorks' picture takes inspiration from real-life events. Specifically, it'll be based on the unlikely rise of Indiana University's ultra-popular choral group Straight No Chaser. Michael Sucsy (The Vow) is set to helm. Hit the jump to keep reading.
THR reports that the project was conceived when Anonymous Content's Michael Sugar heard about Straight No Chaser's history from Atlantic Records CEO Craig Kallman. Founded by Dan Ponce in 1996, the ten-man group quickly proved popular enough to play such venues as Wrigley Field and Carnegie Hall. The original members of Straight No Chaser disbanded in 1999, however, and the group was taken over by new Indiana University students.
Then, in 2006, a 1998 recording of Straight No Chaser performing "The 12 Days of Christmas" landed on YouTube and went viral. The video caught Kallman's attention, and he got in touch with uploader and former Straight No Chaser member Randy Stine to discuss a possible reunion. The original ten quickly reunited and signed a five-record deal. Three of their albums so far have hit the Billboard 200 at slots 50 or higher.
DreamWorks picked up the pitch from Anonymous and has attached Jack Amiel and Michael Begler to write. The pair have been collaborating since the mid-'90s, making the jump together from TV series like The Tony Danza Show and Malcom in the Middle to features like The Prince and Me and last year's Big Miracle. Director Sucsy broke out in 2009 with the Golden Globe-winning TV movie Grey Gardens, and crossed over into film last year with The Vow.