'Rio 2' Cast And Plot Details Announced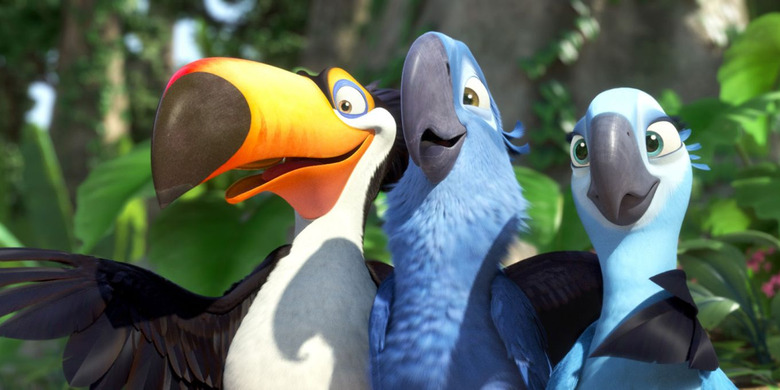 After Anne Hathaway picks up her statue for Best Supporting Actress (Nate Silver said it would happen, so it must be true), she'll be heading to the sunny beaches of Brazil. Or at least, she'll be heading to a recording booth where she'll pretend to be on the sunny beaches of Brazil.
Fox announced today that Hathaway will reprise her role for Rio 2, along with most of her Rio co-stars including Jesse Eisenberg, Jemaine Clement, will.i.am, Tracy Morgan, and George Lopez. They'll joined by several new cast members as well, including Andy Garcia, Kristin Chenoweth, Bruno Mars, and Janelle Monáe. Learn more about the casting and plot details after the jump.
We don't know yet just whom the new actors will be voicing, but here's a summary of the plot via Coming Soon:
In Rio 2, we find Blu, Jewel and their three kids living the perfect domesticated life in that magical city. When Jewel decides the kids need to learn to live like real birds, she insists the family venture into the Amazon. As Blu tries to fit in with his new neighbors, he worries he may lose Jewel and the kids to the call of the wild.
The conflict doesn't sound so different from the last film, in which Blu (Eisenberg) had to learn to embrace his wild side. But the formula worked pretty well last time, so I suppose it makes sense to revisit it.
As with the last one, music will be an important part of the film. Rio 2 will feature work by executive music producer Sergio Mendes and composer John Powell, both of whom were part of the previous movie, and original songs by Monáe and new Brazilian artists.
Rio 2 is slated for release on April 11, 2014.