TV Bits: 'Parks & Recreation', 'Downton Abbey', 'The Newsroom', 'The Americans', 'The Mindy Project', 'New Girl', 'Game Of Thrones', And More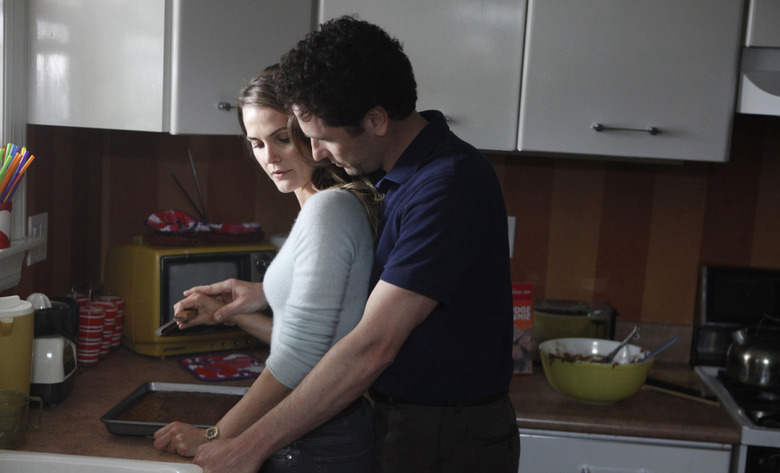 Like the last couple of TV Bits, this one is also chock full of casting news. Also after the jump:
Downton Abbey adds a new series regular
Patton Oswalt will stop by Parks & Recreation
The Newsroom's version of Team Romney expands
Michael C. Hall might be done with TV after Dexter
Chris Lilley's new show starts shooting in Melbourne
FX renews The Americans for a second season
Are Mindy Project and New Girl moving to Thursdays?
Watch four deleted scenes from Game of Thrones
... and find out when we'll get the Season 3 trailer
Buffy alum Marc Blucas joins Tricia Helfer in ABC's Texas ranger drama Killer Women
Twilight actress Rachelle Lefevre is also going Under the Dome at CBS, playing a reporter
Mandy Moore has been cast as one of three dysfunctional 30somethings in ABC's Pulling
Party Down pretty boy Ryan Hansen signs up for the Jason Segel part in CBS' Bad Teacher
Catherine O'Hara will be a poor legal assistant's frenemy in Fox's To My Future Assistant
David Harewood is reuniting with his Homeland producers for CBS' Anatomy of Violence
Mira Sorvino boards Jim Gaffigan's autobiographical CBS comedy as his put-upon wife
Tim Meadows is a school principal on Fox's The Gabriels, from The League's Justin Hurwitz
CBS' Beverly Hills Cop pilot has found a female lead in Sheila Vand, last seen in Argo
Bridesmaids co-writer Annie Mumolo nabs the starring role in ABC's Middle Age Rage
And in the world of casting for things that aren't pilots...
Downton Abbey has just bumped up recurring guest star Lily James to series regular status for Season 4, presumably to help make up for some of the characters we lost this past season (R.I.P.). James plays Violet's great niece Rose, and her rebellious personality should help keep the Crawleys on their toes as they push further into the roaring '20s. [TV Line]
Pawnee's collection of oddball citizens just got a little bit bigger. Patton Oswalt will guest star in an upcoming episode of Parks & Recreation directed by Amy Poehler, playing a guy who misses the good ol' days of 1817, when the town was first founded. [TV Line]
The Newsroom has added one more to its Romney camp. Constance Zimmer has booked a recurring role on the HBO drama as Taylor, a spokesperson for presidential candidate Mitt Romney. (Remember, this show takes place ever so slightly in the past.) That should dovetail nicely with her gig on Netflix's House of Cards, where she plays a Washington Post editor. [Deadline]Michael C. Hall may be done with television when Dexter is. While Showtime has yet to confirm that the thriller's upcoming eighth season will be its last, Hall has begun thinking about where he might go next — and he says it likely won't be anywhere on the small screen. "I don't want to close that door but another open-ended commitment to something that could potentially go five or more years is a little daunting at this point," he said.
Then again, he admits, he's said that before. "The one thing I ruled out when Six Feet Under ended was another television series being my next job and you can see where that got me," he pointed out. [Metro via Screen Crush]
Summer Heights High and Angry Boys creator Chris Lilley has begun production in Melbourne on another new series, a six-parter being co-produced by HBO and Australia's ABC. No plot details are available as of yet, but if you liked his other shows you'll want to keep an eye out for this one.
"I want to keep as much of the show as possible a secret, but if you've loved my last three shows, this is part four," Lilley has said. "It's going to be really good." [The Sun]
Elizabeth and Phillip Jennings will live to spy another year. FX has just renewed The Americans for a second season, four episodes into its first. Not that the news should come as a surprise — the series premiere was FX's most-watched debut ever. [TV Line]
New Girl and The Mindy Project are moving to Thursdays, at least temporarily. Mindy will air two new episodes in the first week of April, one in its regular Tuesday evening slot and the other in a special Thursday outing. New Girl has a rerun airing April 2, followed by a new episode April 4.
While the scheduling shuffle is currently only planned for the one week, it could suggest that Fox is planning on moving the shows to Thursday next season, especially as NBC's The Office is on its way out. [EW]
Those who've been dying for a bit of Game of Thrones Season 3 footage should be sure to tune into Jimmy Kimmel Live tonight. A new 60-second trailer will be unveiled on the talk show. "I am so excited about this trailer, even I might watch my show," said the host in a statement. Game of Thrones returns March 31. [EW]
In the meantime, whet your appetite by checking out these deleted scenes included on the Season 2 DVD / Blu-ray set. Sansa, The Hound, Littlefinger, Varys, Margaery, Loras, Irri, and Doreah all make appearances. [via Vulture]